Ideas for Engraved Wallets
Posted at 11:57 AM • September 30 2019 • Ryan Popoff
---
Giving a gift is great, but giving a personalized gift is even better. What happens when you don't know what to engrave? Ever wonder what our customers ask to get engraved?


We do a lot of personalization on our goods and we often have folks reaching out to us. They're looking for suggestions on what to engrave.
A lot of personalized goods go out our door and I've compiled a list of the various things you might want to consider engraving on your item (whether it's a wallet or not).
Personality is everything in art and poetry.
- Johann Wolfgang von Goethe
Personalized items show that you've thought about your loved one. It's a keepsake they will keep around and it's something that will remind them of you.
What you get engraved is up to you, your recipients' style, and the relationship you share.
Stumped on what to engrave? Let's dive right.
You could Engrave Initials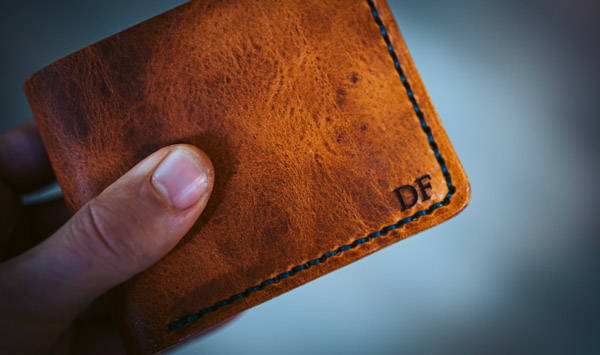 This is the tried and true way to engrave your wallet and keep it personal. Add your son's initials to his first leather wallet for example.
The initials on the wallet don't have to be your own. Think of giving the wallet to your Dad with the initials of his grandchildren on it. Or give your wife a card holder with your initials on it.
These are all special touches that show you have someone on mind and you took the extra time to make their gift unique.
Dates hold special significance which may be known only to you and the person receiving the gift.
For a child, a birthday may be the perfect date to place on their wallet, showing how special it was when they came into the world.
For a spouse, it may be more appropriate to engrave your wedding day, the day you met, or the day you first brought a child into the world.
Add Latitude & Longitude Coordinates
Maybe you might have a special place in mind?
Where you first met your significant other

Where you had your first date

Your favorite vacation destination
A lot of our customers will take their favorite location or address, convert it into latitude and longitude coordinates and we'll engrave that for them.
What do you think looks better?
41° 56' 12.804'' N 87° 43' 35.868''
or
The Pizza Hut on 3045 N Pulaski Rd in Chicago.
If you're wondering how you can get latitude and longitude coordinates, it's pretty easy. Just use a website like latlong.net. Or use the iPhone app called What3Words which is even more accurate (and memorable!)
Engrave a Love Quote for Him (or Her)

A lot of people (myself included) just aren't cut out for this kind of stuff. But sentimental, romantic engravings can be cherished by our better halves. If you're giving a wallet as a gift to your loved one, chances are you want it to be unique.
I'm terrible at this kind of stuff, so I had a little help from our customers. Use the list below if you need some inspiration (feel free to use them!)
Our top 12 Love Quotes for Him or Her
Based on some of our most popular customer engravings

---
I know that my feelings for you are real because I spend more time thinking of you than myself. - Anonymous
If I know what love is, it is because of you. - Hermann Hesse
I need you like a heart needs a beat. - Anonymous
I love you more than I have ever found a way to say to you. - Ben Folds, The Luckiest
You make me feel so proud of being in love with you. - Anonymous
True love is knowing a person's faults, and loving them even more for them. - Anonymous
I want to be with you till my last page. - A.R. Asher
You're my spark in the dark. - Anonymous
I still fall in love with you every day! - Anonymous
I want to grow old with you an be able to say that I have lived an amazing life with you. - Anonymous
I never wanted to be your whole life — just your favorite part. - Anonymous
Forget the butterflies; I feel the whole zoo when I am with you. - Anonymous
The benefit of an inside joke is that it only means something to you and the person the joke is with.
If there's a certain phrase the two of you use together that only you understand, that may be the perfect engraving for their wallet.
For example, for a while my phone was auto-correcting the words "earlier" to "walrus." Because of this, engraving a wallet with the world "walrus" would be meaningful to me though the meaning would be unclear for an outside observer.
How about a Nerdy Love Quote?

I'm a closet geek. I have tomes of Dungeons & Dragons sitting on my bookshelf next to volumes of graphic novels (do me a favor and go read everything by Chris Ware).
A geeky reference to something they love shows not only that you care about them, but also that you know and care about things that are important to them.
If you have a wife who is obsessed with the Harry Potter series, the word "Always" would make a simple engraving say a lot. It would show not only that you understand her love of Harry Potter, but also that you will love her with the same strength, dedication, and longevity that Severus Snape loved Lily Potter with.
On the other hand, your Star Wars-loving son may instead appreciate the words "I Know" engraved on his wallet, a reference to Hans Solo's reply the first time Princess Leia said "I love you."
Our top 11 Nerdy Quotes about Love
Based on some of our most popular customer engravings

---
Always. – Severus Snape (Harry Potter)
I will never leave you. That's a promise. – Ripley (Aliens)
I'm in lesbians with you. – Scott Pilgrim (Scott Pilgrim Vs The World)
Face it, Tiger, you just hit the jackpot. – Mary Jane Watson (Spiderman)
The only math you need is: You + Me = Forever – Homer Simpson
Happiness is anyone, and anything, at all, that's loved by you. – Charlie Brown
We came, we saw, we kicked its ass. – Dr. Peter Venkman (Ghostbusters)
I'm going to pull time apart for you. – Amy Pond (Dr. Who)
I'm your density. I mean, your destiny. – George McFly (Back to the Future)
My precious... - Gollum
Yes, I love technology. But not as much as you, you see.  - Kip Dynamite (Napoleon Dynamite)
Types of Engraving on Wallets
Apart from figuring out what to put on your wallet, there are different types of engraving that can be added to a leather wallet. We've experimented with a lot of different techniques before finally settling on two methods that work the best: Heavy brass stamping and Laser Engraving.
Check out the differences and be your own judge.
Tooling is the traditional way of carving designs into leather.
You can spend hours hunched over a table carving designs into wet veg tan leather, then stamping textures into that same leather to get a beautiful embossed effect.
One wallet design could potentially take over an hour to make!
This is the type of engraving popular with DIY folks. Grab a craft knife and slowly carve a specific engraving. The effects are permanent, but there will be some fading depending on how the leather heals itself. Looks terrible and unprofessional (unless you're a very steady hand).
Scratches are great for patina, but not so much for personalization.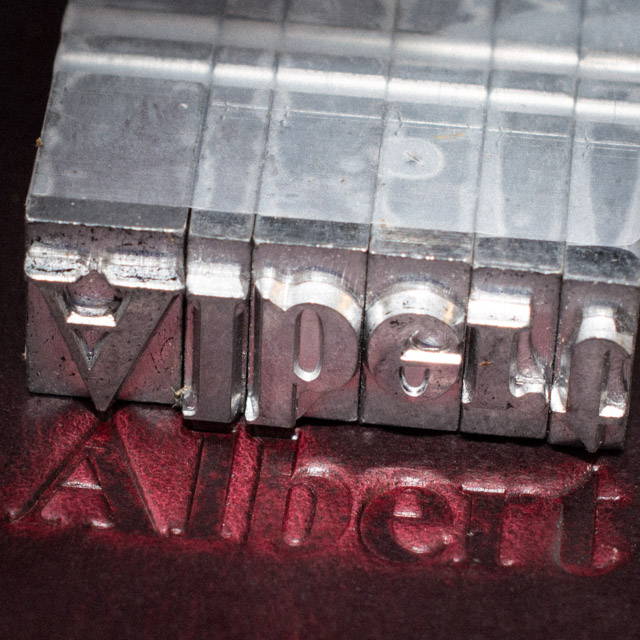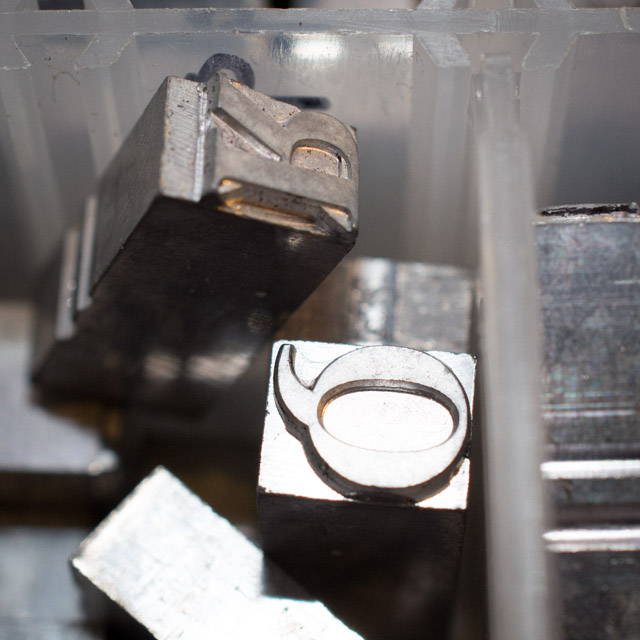 We used to offer stamped initials. We used an old letterpress alphabet and pressed them into leather. Each letter would be hand-selected, taped together and carefully placed underneath an arbor press.
This was good for a couple years, but wildly inconsistent. Great for an amateur hobbyist, but we found that letters would easily get crooked and the engraving actually faded over time.
Not great for a lasting memento.
Companies who have worked with us in the past love the brass stamp look. This is an option for large orders that require a consistent branded look.
The stamps that we use for this process are specially fabricated out of brass and are cost and time prohibitive for one-off orders.
Not ideal if you need a gift quickly!
After a lot of trial and error, we decided to go with an industrial laser engraver for our personalization option. This allows us a high degree of flexibility with both speed and customization options. Laser engraving also never fades (unlike traditional stamping).
Our Most Popular Engraved Goods
When it comes right down to giving a personalized gift, you have a lot of options. Here are some items that we make right here in our workshop that would be perfect for gifts.
Each item can be engraved by us and lasts a lifetime.
When that birthday card comes around and I'm the last person in the workshop or house to sign it, I often turn to Google for an idea of what to write.
Feel free to use any of these ideas on your own items whether its a ring, watch or even leather wallet.
Do you have a good idea for customizing or personalizing a gift? Leave a suggestion below for others 👇
---
---