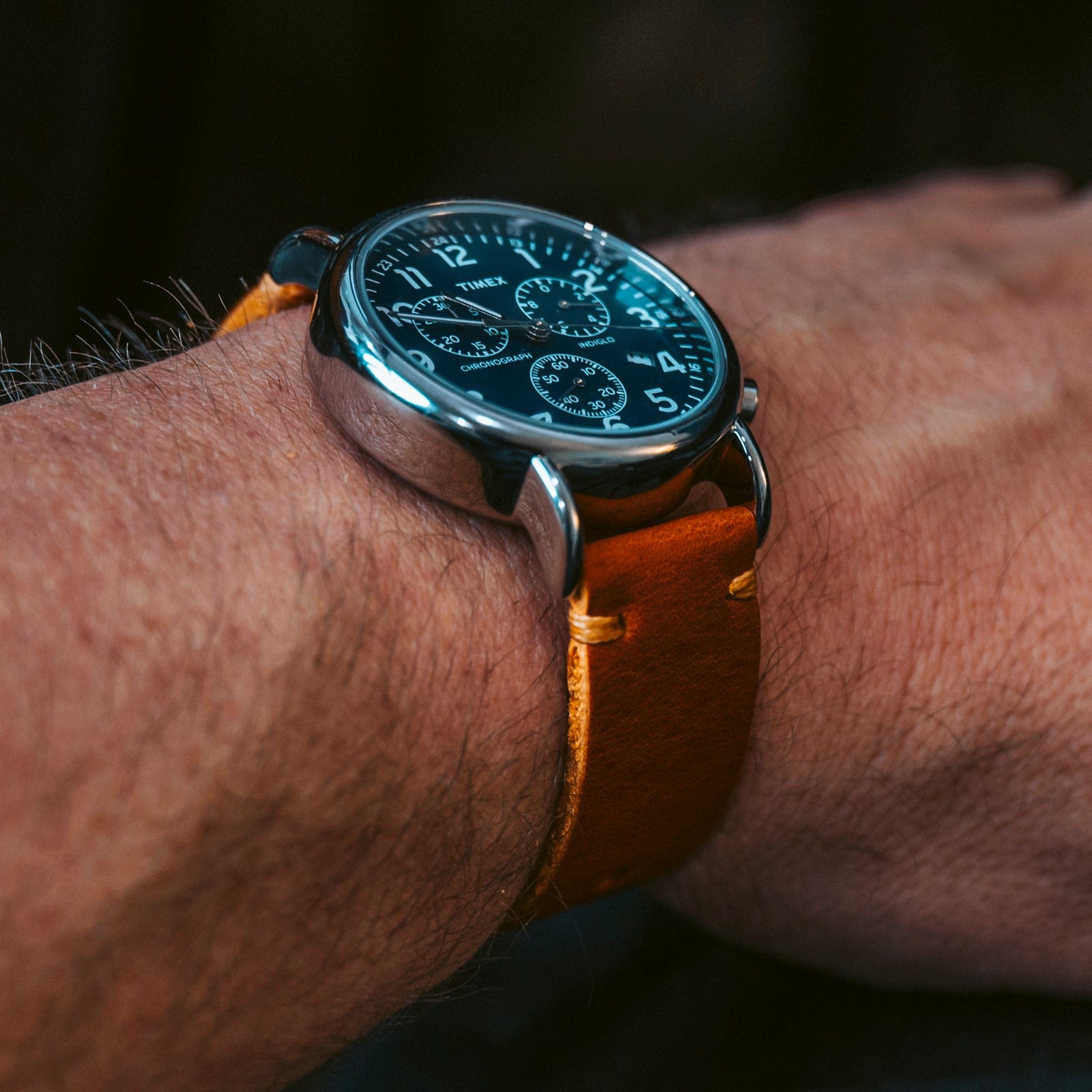 A Great Gift Idea
Instant Gift Cards
Can't decide on the perfect leather gift? Instant Gift Card to the rescue!
Last Minute Gifting
LEATHER APPLE WATCH BANDS
Apple watch straps are popular because of their sleek, stylish look and their functionality. 
Our Apple watch straps are designed to take that look to the next level, adding the handsome durability of top-grain leather to the fashionable, minimalist vibes of your favorite Apple watch face. 
Each strap is hand-sewn using top-quality full grain leather and durable Tiger thread. We take care with each watch strap we create to ensure a comfortable feel and a striking appearance. 
LEATHER WATCH BANDS
Our traditional watch straps are designed to complement your favorite timepiece. 
Full-grain leather brings with it the blemishes and whorls of the animal it came from, ensuring no two Popov Leather watch straps look exactly the same. Our leather straps are hand-sewn using Tiger thread for maximum durability. In fact, we're so sure of our craftsmanship that we offer a lifetime guarantee on all our leather products. 
When paired with an average-sized timepiece, our watch straps are designed to fit wrists ranging from 6" to 8.5" in circumference. 
It's possible to change your own watch strap at home. 
Start by finding a clean, flat surface. Lay down a soft cloth so that you don't scratch your watch face while you're changing out your strap. Then, lay your watch down on its face so you can see the back, unbuckling it so the current buckle lies flat. 
Then, orient yourself with your new watch strap. 
Your new strap comes in two pieces. The shorter piece will have the buckle attached, while the longer piece has holes in it to attach to the buckled piece. Lay these pieces underneath the same types of pieces on your existing watch strap so they're parallel. This will help you fasten the new strap to the correct sides of your watch. 
Next, you need to remove your old watch strap. Most straps are attached to watches using a telescoping, spring-loaded bar. Use a spring bar tool to maneuver these spring bars out of the watch strap. Make sure you have some sort of barrier set up; because spring bars are spring-loaded, they can easily fly off in any direction, and can quickly get lost in shaggy carpets or down vents. 
Finally, place the spring bars in the replacement straps. Insert the bottom part of a spring bar into your watch face, then push on the top to telescope it into place. When you maneuver your strap into place and remove your spring bar tool, the telescoping spring bar should snap into place. 
Do this to both sides of your strap, and you will have installed your new watch strap. 
Replacing an Apple watch strap is even easier than replacing a traditional watch strap. Apple link bracelets offer a quick-release button. Your old watch strap will pop out, and you can insert the new watch strap.

Apple also offers a visual guide on replacing watch straps for all their watch models. So, even if you don't have a quick-release button on your Apple watch strap, it's easy to follow along and swap out your watch band yourself.
At Popov Leather, we believe in minimizing waste and maximizing efficiency. Since spring bars and watch pins can usually be kept for years, we don't include those in your purchase of a leather watch band. 
If you lose your current pins or spring bars, or yours have rusted from years of use, you can buy replacement pins online for just a few dollars. Consider whether you'll need new pins when purchasing your new watch strap so you can be sure to have everything you need on hand when your new leather strap arrives.
One great thing about Apple watches is that they're built to be compatible with all other watches in their series. For this reason, the connector size and shape are the same for all Apple watches in the same series. 38mm, 40mm, 42mm, and 44mm Apple watch bands are all interchangeable. 
One of the great things about leather watch straps is the patina they develop over years of use. 
Sweating while wearing your watch strap will add oils back into your leather, keeping the leather feeling buttery-smooth and hastening the patina process. This means that wearing watch straps while working out is a great choice, especially if you love the look of leather with a rich patina. 
Leather watch straps are also more gentle on your skin than other materials. This reduces chafing during your workout, allowing you to keep time and track your steps without any discomfort.
While our leather watch bands are great for working out in — and even improve with a little sweat worked into the leather — they are not waterproof. 
When leather gets soaked and then dries, the drying process leaches the oils from the leather. This leads to the leather drying out. It can become brittle and even crack. 
While you probably don't have to worry about a little sweat during a workout, or even wearing your watch on your wrist out in a little bit of rain, you don't want to wear your Popov Leather watch strap swimming or working outside in the pouring rain.
Apple watch straps are designed to be interchangeable. However, if you know the size of your current Apple watch, it's a good idea to get a compatible size watch strap just to be on the safe size.
While it's not a good idea to throw your leather watch strap in the washing machine, it is possible to clean your watch. 
Use a gentle, microfiber cloth to prevent scratching. To clean the surface and wash away a little bit of dust or dirt, all you need is some water. Using a damp cloth, wipe the surface, and then leave it to air dry. 
If you need to do a deep clean of your watch, or your find that cleaning it with water is drying it out, you can use cleaning products specially designed for cleaning leather. 
Never use harsh cleaning products on top-grain leather. Chemicals like bleach, Chlorox, or even harsh soaps can degrade your leather and ruin it forever.
We offer two different sizes of Apple watch straps. 
The first is designed for Apple watches with a lug width of 38, 40, or 41 mm. The second is designed for Apple watches with a lug width of 42, 44, or 45 mm. 
In either case, the watch straps themselves are designed to fit a wrist circumference of 6" - 8.5".
HANDCRAFTED LEATHER WATCH BANDS
Though your phone may have the time, your watch will never run out of charge. And it's much easier to cast a surreptitious glance at your wrist during a meeting than to whip out your phone. That's why we recommend watches as a top everyday carry item for most men, especially business professionals. 
Although many people focus on their watch face, watch straps can take your watch to the next level. Our collection of handcrafted leather watch straps features buttery-smooth full grain leather. Each strap is handstitched using a durable tiger thread. This combination creates a heritage-quality watch strap with handsome, minimalist vibes. 
Enjoy switching up the look of your watch with different colors. Each tone is individualized to highlight different colors and showcase a different facet of your personality. 
Heritage-quality means that your watch strap will last the course of your life — and then some. Consider how meaningful it would be to one day pass your watch down to your child. 
At Popov Leather, we understand the importance of high-quality items. That's why each of our handcrafted goods is guaranteed for life. You can invest in high-quality leather products, knowing that you will receive a top-quality product for your investment.