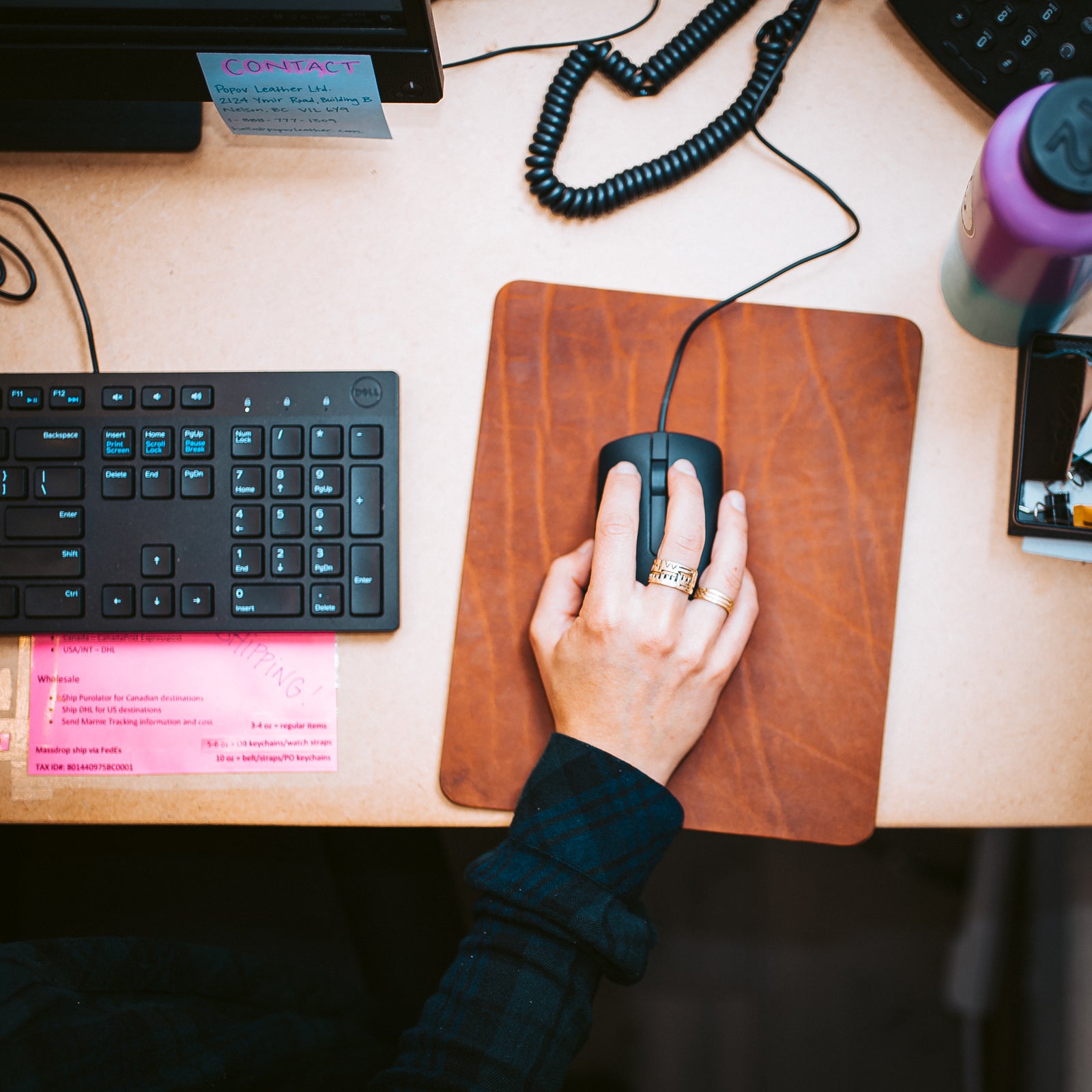 Leather Mouse Pads
Experience the benefits of a mouse pad that improves with age. The leather will develop a rich patina, forming to your unique needs for a personalized touch. Measuring 10" x 8.25", this pad offers ample space for mouse movement, making it the perfect accessory for any executive desk or home office.
Leather Desk Pads
Transform your desktop with our Leather Desk Pad. Cut from thick 9oz full grain leather, this pad offers unmatched luxury for your wrists, keyboard, and mouse. Say goodbye to cheap cloth pads and hello to a desk accessory that will stand the test of time.
Leather Valet Trays
Keep your everyday essentials stylishly organized with our Leather Valet Tray. Crafted from premium full-grain leather, this tray develops a rich patina with every use and offers a lifetime guarantee. Its solid brass snaps provide a secure hold and when unsnapped, it lays flat for easy travel. Measuring 6" x 6", this tray fits all your pocket essentials and protects your furniture from scratches.
Leather Coasters
Each coaster is individually pressed by hand for a unique, personal touch. The leather will develop a rich patina over time, making each coaster an increasingly special addition to your tabletop. With a 4" round design and illustration by artist Liam Ashurst, our coasters are the perfect finishing touch to any drink.
The mouse pad is made from 9oz full grain leather, a thick and durable type of leather that is known for its quality and longevity. This leather will develop a rich patina over time, adding to its aesthetic appeal.
Yes, both pads have burnished and polished edges which not only adds to its visual appeal, but also shows the attention to detail that has gone into its creation. The mouse pad is also made from 9oz full grain leather, which sets it apart from other mouse and desk pads made from cheaper, less durable materials.
The mouse pad measures 10" x 8.25", making it a suitable size for a desktop or home office setting.
Yes, the mouse pad is designed with comfort in mind. The 9oz leather provides a comfortable surface for your hand to rest on, and the thick material ensures that it will remain comfortable for extended periods of use.
No, the mouse pad is designed to stay in one spot, and its heftiness ensures that it will not slip or slide around on your desk. This stability makes it a suitable choice for use with any type of optical mouse.
The Leather Desk Pad measures 35.4" x 11.8".
Yes, the leather desk and mouse pads works great with any optical mouse.
The Leather Valet Tray is designed to organize and store items that were in your pockets, to prevent scratches on table tops and dressers, and to improve the appearance of your bedside table.
Yes, the tray can lay flat when not in use, making it easy and convenient to pack for travel.
YOUR DESK DESERVES QUALITY.
Upgrade your workspace with our collection of premium full grain leather products. Our Leather Mouse Pad, Leather Desk Pad, Valet Tray, and Coasters add a touch of elegance to any desk or workspace. Made with only the finest full grain leather, each of these products offer both durability and comfort for a long-lasting experience.
Whether you work from home, at the office, or on the go, our full grain leather collection is the perfect way to add style and functionality to your daily routine. Indulge in the beauty and quality of full grain leather and elevate your workspace today.