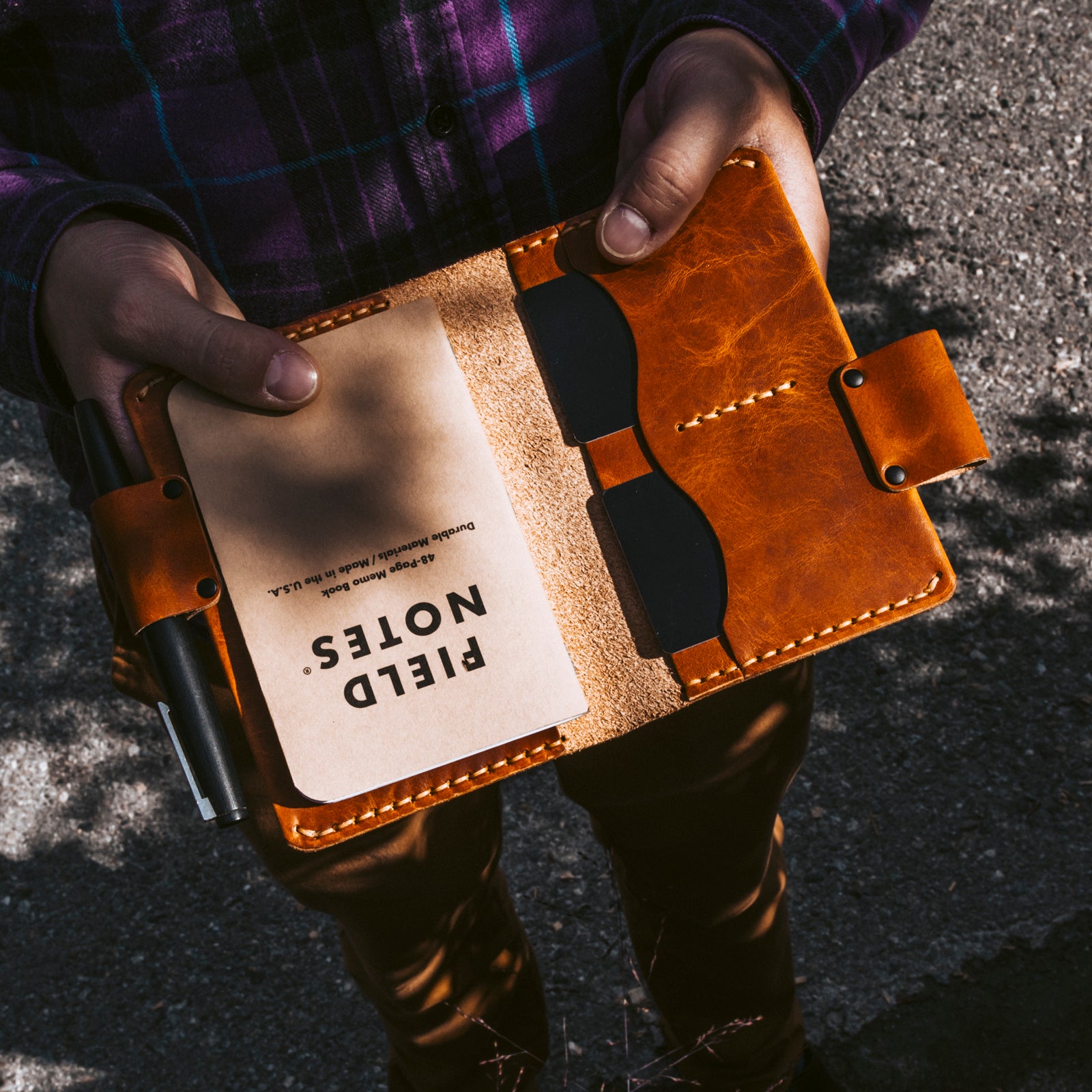 Leather Field Notes Covers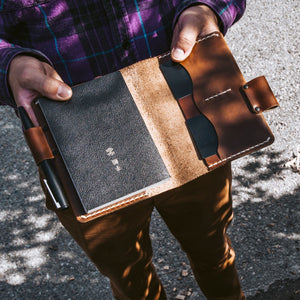 Interlocking Tabs Are Back
20% Off ALL NOTEBOOK COVERS
Use code: PENLOOPSAREBACK
LEATHER FIELD NOTES COVERS CRAFTED IN CANADA
Discover the elegance and durability of our Leather Field Notes Journals, meticulously hand-crafted to perfection. Designed to fit the renowned Field Notes Memo Books, our covers are a blend of traditional craftsmanship and modern aesthetics. Sourced from family-run tanneries in the USA, our full-grain leather promises longevity and a unique patina over time. Whether you're jotting down daily tasks or capturing fleeting moments of inspiration, our Leather Field Notes Covers, made in Nelson BC, Canada, are the perfect companions for your notes on the go.
About FIELD NOTES
Field Notes, a renowned brand for stylish memo books, traces its origins to 2002 when creator Aaron Draplin designed the "Old Red," a red-leather-textured notebook. This marked the debut of the name "FIELD NOTES" and its iconic horizontal Futura logo. By 2005, Draplin's handcrafted designs evolved, leading to the brand's official establishment in collaboration with Jim Coudal of Coudal Partners in 2007. Over the years, Field Notes has released various limited editions, each reflecting a blend of traditional craftsmanship and contemporary design.
Today, Field Notes stands as a symbol of quality and creativity, offering memo books that seamlessly merge functionality with aesthetics. Their legacy is celebrated through unique themes and designs, making them a favorite among note-takers and design enthusiasts alike.
Leather is not just about aesthetics; it's about experience. With each use, your leather cover will develop a unique patina, telling a story of where you've been and what you've penned down. Moreover, our full-grain leather offers durability, ensuring that your precious notes are protected for years to come.
Our Field Notes covers have been designed to fit Field Notes Memo Books and our own Note Keeper Pocket Notebook.
Our design is tailored to fit one Field Notes Memo Book perfectly. However, its flexible nature means you can slip in an extra booklet if needed.
At Popov Leather, we prioritize craftsmanship and authenticity. Our covers are hand-stitched, ensuring each piece is given individual attention. Sourced from family-run tanneries in the USA, our leather is of the highest quality, promising both longevity and a luxurious feel.
We stand by the quality of our craftsmanship. Each Leather Field Notes Cover comes with a guarantee against any manufacturing defects. If you ever have an issue, our dedicated team is here to assist.