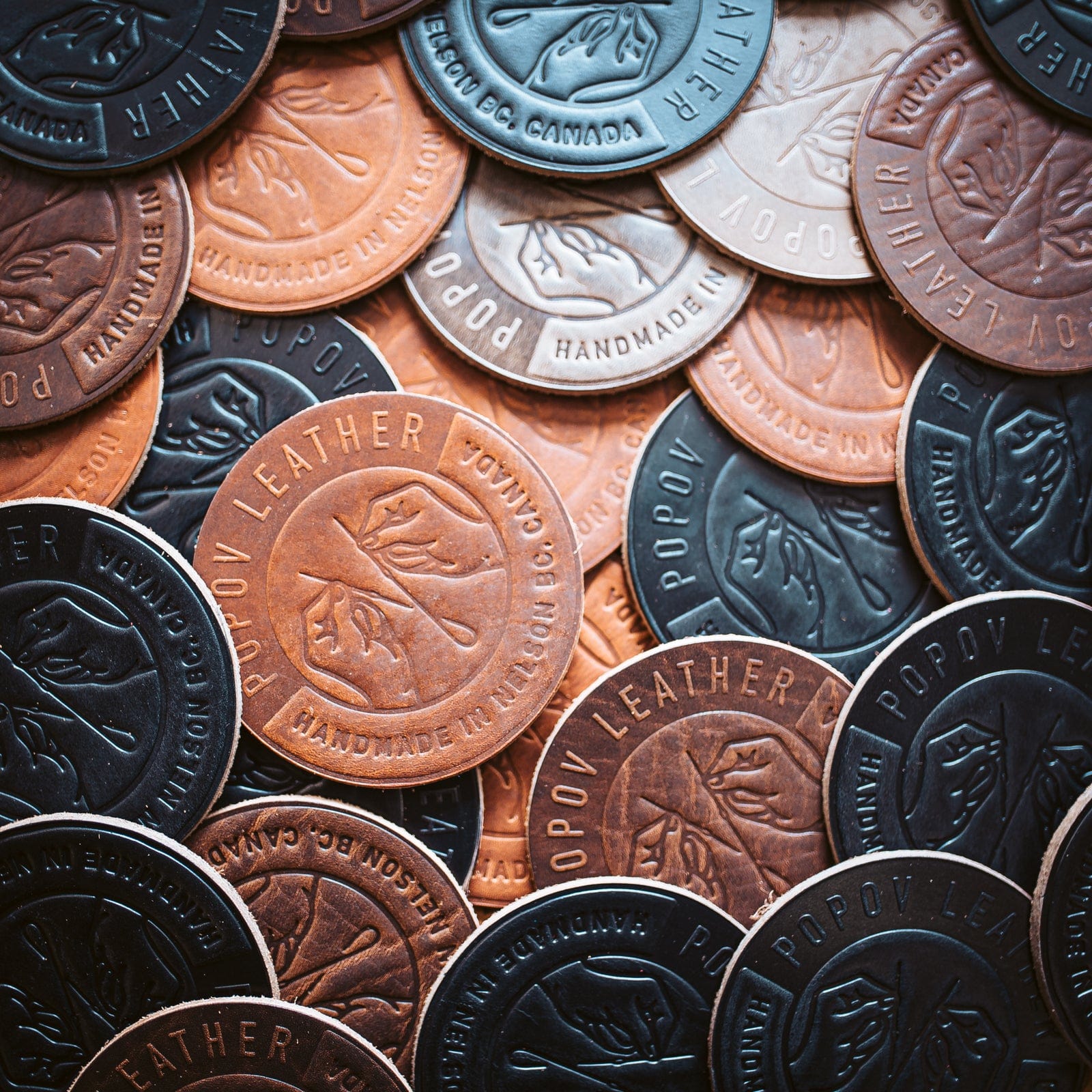 CUSTOMIZED COASTERS IN BULK
Bring your restaurant, brewpub or festival to life.
Serve your guests in style with durable, custom leather coasters that are both durable and affordable.
We make these coasters from thick premium USA leather and stamp them with your logo. These coasters will be hard to leave on the table.
Why use our custom coasters?
- Thick 4" USA leather coasters: will never tear or fall apart.
- Customized with your logo: advertise your brand, not some beer company.
- Build customer loyalty: customers will have a hard time leaving them on the table.
- Made in Canada since 2013: we will always deliver consistent, high-quality work.
Personalized Coasters for your Brand.
When it comes to making a restaurant stand out, nothing does the trick quite like a set of unique coasters.
And few materials can compare to the look and feel of leather.
Our thick leather coasters are perfect for any setting, lending an air of sophistication and style to any table. What's more, they're built to last. So go ahead and spill your drink on these custom coasters; they'll only get better with age.
Leather Vs. Paper Coasters:
Our leather coasters are better than paper coasters for several reasons.
First: they are made of a durable material that will last for years.
Second: they have a stylish and sophisticated look that will enhance the appearance of your bar, restaurant or pub.
Finally: they are easy to clean and care for. Paper coasters can easily become stained or torn, while leather coasters can be wiped clean with a damp cloth.
Wear In, Not Out
Our custom coasters are made from heavweight USA premium leather: the same thick leather we make our belts out of.
Forget cheap paper coasters that tear and disintegrate over time.
Not only will these coasters last years, but they'll look better over time.
Eye-Catching
People will have a hard time leaving these on the table.
Our custom logo imprinting is crisp, beautiful, and durable.
We work with every brand to ensure that their logo comes to life on our leather.
Delivered on Time
We can often get custom orders made and shipped within 2 weeks.
Need your leather coasters sooner? We can usually make it work.
Rich Leather Colors:
Liven up your space and make it unique with our 4 leather color options.
Not only do they look great, but they are incredibly functional as well. Our tough leathers work great as drink coasters because they can withstand lots of use and protect your tables from messy spills.
Our bulk pricing is reasonable and affordable despite it costing more than competitors' flimsy paper coasters. The thickness and quality of our leather coasters means they will last much longer, making them a better value in the long run.
| Quantitiy | *Price per Coaster | *Setup Fee | *Shipping Fee |
| --- | --- | --- | --- |
| 250+ | $3.75 ea | $100.00 | FREE |
| 500+ | $3.50 ea | FREE | FREE |
| 1,000+ | $3.25 ea | FREE | FREE |
| 5,000+ | $3.00 ea | FREE | FREE |
| 10,000+ | Contact Us | FREE | FREE |
*Please Note: All prices in USD. Our minimum quantity for custom coaster orders is 250pc. Free shipping to USA and Canada only. These prices cannot be combined with any other offer.
"We've been using the Popov coasters in our Craft Beer/Whiskey bar Broken Hill for a little over a year and its become an essential element of the room experience.

Their classic authentic style permeates our social media as well. We do know that a number are finding customers purses and bags but it's a back-handed compliment that our brand is in peoples homes and its a stellar promotional tool.

We have started selling them at cost but either way we love this unique and beautiful coaster with our logo on it. We'd steal them if we didn't own them."

Chad Hansen, Owner of Broken Hill
Contact Us
Interested in getting your logo on some leather coasters? We can't wait to hear from you. Drop us a line and we'll be in touch within one business day.
FAQs
Here are some common questions about our bulk customized coasters.
We can ship your custom coasters order within 2 weeks. If you need it sooner, let us know and we can often make it work!
Shipping to any USA or Canada address is free. All other international orders will be assessed prior to invoicing.
Generally speaking our coasters don't need to be maintained. If needed, you can use a damp cloth to wipe them off. We do not reccomend fully submerging these as water will wash out any tannins or waxes and create dry leather.
All our coasters are 4" round and 1/8" thick. These are no flimsy coasters!
These are high-quality full grain leather coasters which are intended to get better over time. Any knicks, dents, scratches or spills will fade over time as the coaster is used. We call this Patina.
All our leather is tanned for us by the Horween Leather Company in Chicago, IL.
No. Our coasters are built to withstand high heats. Just don't throw these in a fire, they won't last long.
Leather is a great material for coasters because it's durable and absorbent. A good thickness for coasters is 1/8 to 1/4 inch. This will give them enough thickness to protect your furniture from water rings while still being lightweight and easy to move around.
Leather is the best material for a drink coaster because it will absorb the condensation from your drink and keep your table dry. It's also a durable material that can withstand everyday use.
Other materials that could be used for coasters include cork, wood, and felt. However, none of these materials have the same moisture-absorbing properties as leather, so they may not be as effective in preventing water rings on your table.
There's no one-size-fits-all answer to this question, as the size of coasters will vary depending on the type of drink being served. However, in general, coasters should be around 4 to 5 inches in diameter.
When it comes to customizing your restaurant, few things make a bigger impact than a set of unique coasters. And our leather coasters are perfect for the job.
Not only do they look great, but they're also built to last. Plus, we can stamp any brand logo or design onto them and they'll look amazing. So why not add a touch of personality to your restaurant with a set of custom leather coasters?