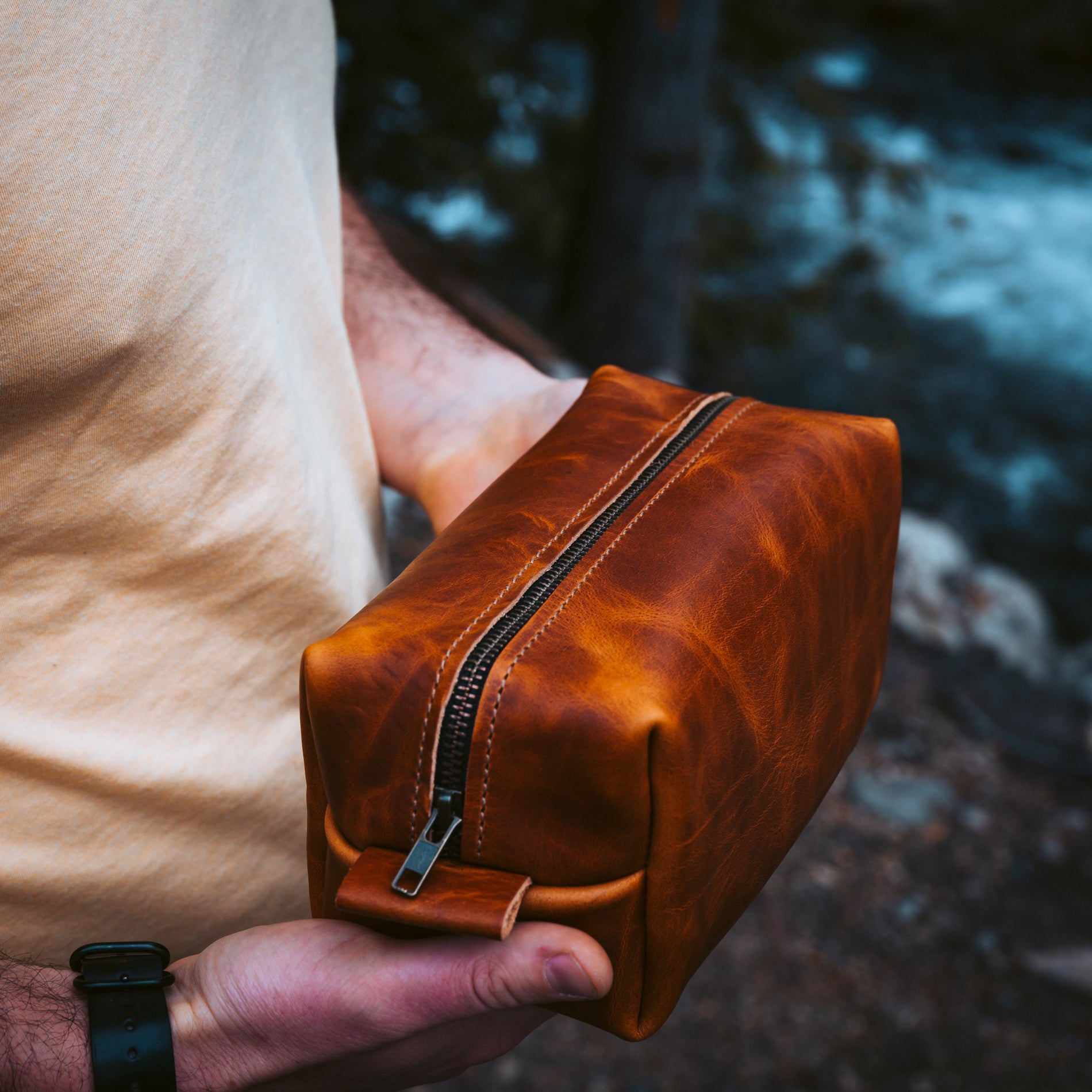 Leather Toiletry Bags
Our leather toiletry bag is a durable and stylish accessory for any traveler. Made from USA full-grain leather and sewn with an industrial sewing machine, this spacious bag can hold all of your grooming essentials and more. The YKK solid brass zipper with two tabs ensures that your items stay secure and accessible, while the bag's dimensions of 8.5" x 4" x 4.5" offer ample space. Upgrade your travel experience with this essential accessory that is both functional and stylish.
Leather Passport Cases
Travel with confidence with our Leather Passport Cover. Made from durable, full-grain leather that will develop character over time, this cover features hand-stitching with strong Tiger Thread, 2 card slots, and a wide design that can hold passports and cash. The burnished and polished edges show our attention to detail, and we stand behind each cover with a lifetime guarantee. Upgrade your travel experience with our functional and stylish passport cover.
Leather Sunglass Cases
Protect your sunglasses with our premium leather case. Made from full-grain leather that develops character over time, this case fits any size of glasses and features a secure magnetic snap and double-walled interior for added protection. Hand-stitched with durable Tiger Thread and backed by a lifetime guarantee, this case combines style and quality to keep your glasses protected and looking sharp.
Leather Keychains
Our durable leather keychain is designed for your daily adventures. Securely clip your keys and wrap around your belt for easy access. Crafted with USA full-grain leather and backed by a lifetime guarantee. Experience reliability and style with our leather keychain.
Yes, all our Leather Passport Covers are designed to fit any passport nationality, making it a universal fit for all travelers.
A full grain leather passport case is a type of case designed to protect and store a passport. It is typically made of the highest quality leather, known as full grain leather, which is strong, durable, and naturally resistant to moisture.
A leather toiletry bag is a bag made of leather material used for storing and organizing personal grooming items such as toothbrush, toothpaste, shampoo, and other similar items. It is often used by travelers to keep their toiletries organized and in one place, making it easy to access when needed.
To care for your leather toiletry bag, it is important to regularly clean it with a soft, damp cloth to remove any dirt or stains. Avoid using harsh chemicals or liquids that can damage the leather. Store it in a cool, dry place when not in use, and avoid exposing it to direct sunlight or heat sources.
Sure, some people use leather sunglass cases to hold and protect other items, such as eyeglasses, reading glasses, or even small personal items like a key or a small wallet.
The Leather Valet Tray is designed to organize and store items that were in your pockets, to prevent scratches on table tops and dressers, and to improve the appearance of your bedside table.
Yes, the tray can lay flat when not in use, making it easy and convenient to pack for travel.
YOUR LEATHER TRAVEL COMPANIONS
Forget frequent flyer miles. When you travel on a regular basis, what you need more than anything else is convenience. Our travel collection puts the items you need for a comfortable business trip at your fingertips. High quality leather and craftsmanship from people who care means that you can travel without the stress of your equipment breaking down when you need it most. Meanwhile, our leather offers you a stylishly minimalist look that's right for any occasion.