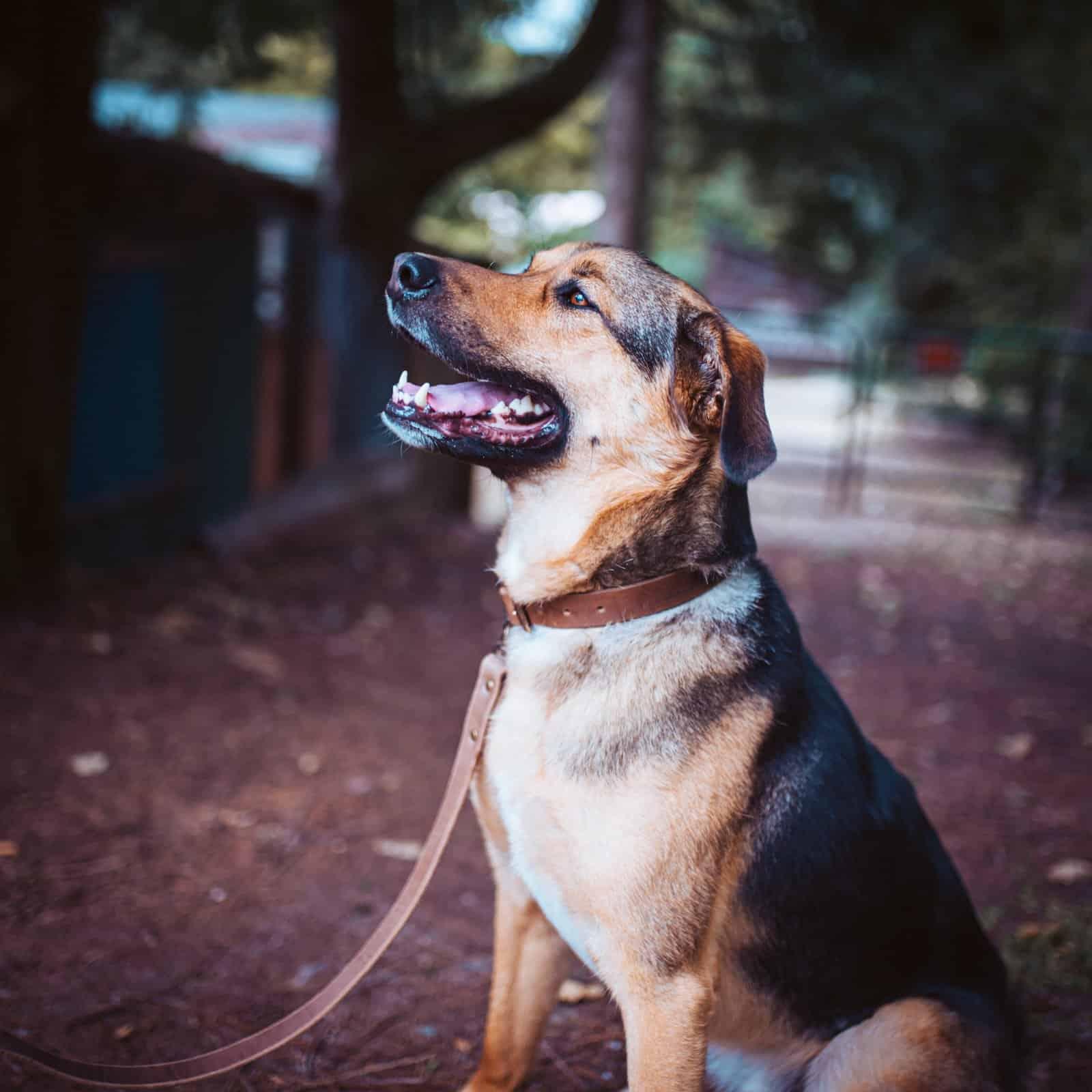 Leather Dog Collars & Leashes
DOG COLLARS
Supple, buttery-smooth full grain leather creates hard-wearing, handsome collars that will last your dog's lifetime. 
Over time, these collars will develop a rich patina, showcasing the history your dog has had with them. 
Each collar has the option to be laser-engraved with details unique to your dog. Engravings look amazing and can improve your dog's safety if they get lost out while wearing their collar. 
DOG LEASHES
Handcrafted with full grain USA leather and stitched with durable tiger thread, our leather dog leashes are designed with the owner's comfort in mind. We've intentionally used a thin strap, ensuring the collar is lightweight and comfortable to hold, even if your dog is pulling. The heritage-quality leather holds up to even the most energetic dog's antics. 
The five-foot length provides your dog with the right amount of lead to feel free on their walk without getting too far ahead of you. Handsomely made full-grain leather will last the rest of your dog's life — guaranteed.
Properly-sized leather dog collars are a safe choice for your pets. 
Unlike other materials, they won't weaken as time wears on. They're heritage-quality, meaning your dog's collar will be just as safe ten years down the road as it was on day one. 
Studies show that force-based training collars, including shock collars and prong collars, can negatively impact your dog's health. Leather collars, on the other hand, are smooth and gentle. 
You can make your leather dog collar even more safe by engraving your address or phone number into the leather so people know who to call if your dog gets lost.
One of the benefits to choosing leather collars is their comfort. The natural material is buttery-soft against your dog's skin, reducing chances of irritation or inflammation. In fact, they're one of the best choices for dogs with sensitive skin.
Many people mistakenly believe that dog collars can't get wet. This isn't the case.
Although it's a good idea to take your dog's leather collar off when you're bathing them, a well-treated leather collar can withstand a bit of rain or splashing without a problem. 
If your dog winds up in a downpour, or you forget to take their collar off at bath time, simply remove the collar, wipe off any standing water, and let it begin to air dry. Don't apply heat to speed up the drying process, as this can ruin the leather. 
When the collar is still slightly damp, condition the leather to replenish the natural oils. Then, allow it to air-dry the rest of the way. 
When your collar first arrives, you'll notice the earthy, deep scent of high quality leather. This is a scent worth falling in love with. It's much more appealing than the synthetic, chemical smell of low-quality "genuine" leathers or nylon collars. 
That being said, no collar is immune to the wet dog smell that develop if you don't clean and maintain your collar. 
Smelly dog collars can be caused by:
- Being sprayed by a skunk
- Mold or mildew development
- Pond skum, mud, or other environmental factors
- Bacteria
- Parasites
The best way to prevent the bad type of smell from seeping into your leather collar is to wash your leather collar regularly. If your dog starts to smell and needs a bath, it's a fair bet that their collar needs to be washed as well.
Yes! You can — and should — wash your leather dog collar. 
The key to washing your collar without ruining the leather is to understand how to wash leather. 
Avoid harsh chemicals. Instead, wash the collar with water-dampened cloth. If the collar needs a deeper clean, use a scrub designed for leather. 
Never apply heat to dry the collar, as this can ruin the leather. Instead, allow the collar to air-dry. When it's still damp, treat the leather with a conditioning balm to revitalize it with natural oils and prevent it from drying or cracking.
The size of your dog's collar matters. Too tight, and it can irritate the skin or become a choking hazard. Too loose, and your dog can slip the collar or get it caught while they're playing. 
The perfect fit will fit snugly, but not tightly, against your dog's neck. A good rule of thumb is that you should be able to fit precisely two fingers between your dog's collar and their neck. 
Although we offer a sizing chart on our website, with recommended collar sizes based on your dog's breed, the best way to ensure a good fit is to measure around their neck with a tape measure. 
Our dog collars are built true to size, which means that your dog's neck size should be the same as the collar you order. 
"Ordered size 14" for my dog who's neck is exactly 14". Fits perfect with room to spare." ~ Peter A.
It's important to check your collar's fit on a weekly basis. Dogs can grow, and leather collars can stretch. Checking regularly allows you to adjust the fit of the collar as necessary.
Nylon is one of the most popular dog collar materials. But in this case, "popular'' isn't the same as "best."
Nylon is a budget-friendly choice for dog collars. It can come in a variety of styles, and is relatively easy to clean. These reasons make it an easy choice for generic pet stores to populate their shelves with. 
Unfortunately, there's a downside to these cheap dog collars. Unlike leather collars, which are buttery-smooth, nylon can irritate your dog's skin and cause chafing, especially if they're the type of dog to pull at their lead. Some dogs are even allergic to nylon. 
Leather dog collars take a little more care, and require a little more investment up-front. But that investment is worthwhile when you understand that your dog's leather collar will last the rest of their life. And instead of having to fight your dog to get their collar on, your canine companion will love the texture of their leather collar. They'll be proud to wear the super-soft material against their skin and won't spend their days fighting to remove their collar.
One of the great things about buying high quality leather is that good leather is designed to be heritage quality. This means that it should last the entirety of your dog's lifetime. 
That said, any dog collar can be broken if your dog is determined enough. While leather collars with metal fasteners, like ours, are more durable than synthetic collars with plastic fasteners, they're not indestructible. 
We account for this by offering a lifetime guarantee on all our heritage-quality leather products. If your dog is particularly excitable and your collar doesn't hold up, we've got you covered. 
"My year old lab is just as tough. He broke the collar where the ring that the leash hooks in. Popov answered my text and emails immediately and quickly sent me a beautiful new collar." ~ Jim R.
Remember that leather is an animal-based product, and — just like humans — many dogs find the smell irresistible. As long as your dog collar is properly sized, this won't be a problem while your dog is wearing their collar. But make sure to put the collar and leash out of their reach when not in use to keep your pet from turning their collar into a chew toy. 
It's also important to remember that leather stretches over time. That's why you want to check your dog's fit on a regular basis.
Leather Dog Collars Made to Order
Choosing the right collar and leash for your dog is a big deal. Not only do you want your best bud to look great, but you also want to know that they're safe and comfortable while wearing the collar you've chosen. 
Made with durable, full grain leather, our dog collars and leashes are designed to be both comfortable and secure. Each item is handcrafted to ensure maximum durability and style. 
Your dog will be proud to stroll through the local dog park in their new luxury dog collar. Matching dog leashes are designed with your comfort in mind, and can withstand the tugging of even the most enthusiastic canine companions.