Find the answers to frequently asked questions.
We've compiled our most frequently asked questions on this page. Hopefully you can find the answer you're looking for, but if not, get in touch and we will help you.
We offer FREE standard shipping based on these order minimums:
USA ships free: USD
Canada ships free: On Orders of $75 CAD or more
Everywhere Else ships free: On Orders of $50 USD or more
If your order does not meet the order minimum a flat rate is applied.
⚠️ CARRIER DELAYS: Changes to carrier operations and delivery processes to protect employees and the public from the spread of COVID-19 may impact delivery times. We have seen an increase in delivery times and we appreciate your patience while your package is in transit.
These shipping times are guidelines and are subject to change at any moment. You can read more updates here.
Made to Order:
Everything we make is crafted with careful attention to detail. Unless otherwise stated in the product description, all our goods are made to order.
The current lead time for all orders is 3-5 business days.
Shipping:
Shipping varies on country and carrier. We provide the following options at checkout:
USA Shipping
STANDARD: Made to order + delivered in 5-15 business days.

DHL EXPRESS: Made to order + delivered in 3-4 business days.
Canada Shipping
STANDARD: Made to order + delivery in 15 business days. Not insured, not tracked.

EXPEDITED: Made to order + delivery in 5-10 business days, includes tracking and insurance.
International Shipping
STANDARD: Made to order + delivery in 20-30 business days. Not insured, not tracked.

EXPEDITED: Made to order + delivery in 9 business days, includes tracking and insurance.
We will replace all items lost in the mail due to the fault of the carrier. We will not replace items lost due to customers providing the wrong delivery address.
In order to replace your lost shipment, your order must have been a tracked and insured parcel per our shipping options. All un-tracked and uninsured shipments are not eligible for replacement.
When a package is shipped within Canada or the USA, there will be no duties or customs imposed.
USA customers will not be charged duties or customs unless their order totals over $800 USD.
When a package is shipped internationally (outside USA or Canada), it may be subject to import taxes, customs duties, and/or fees imposed by the destination country. As a seller, we are expected to be in compliance with the import laws and regulations of the countries we ship to. This includes accurately representing the contents of your package. For example, we must ensure that a sold item is not marked "gift" on a customs declaration form.
Your order may be subject to VAT, import duties and/or taxes, which are levied once your package reaches your country.

Popov Leather ships your package DDU, "duties and taxes unpaid", and does not collect the VAT, duties and/or taxes and cannot predict what your particular charges may be. If you do incur these additional charges, they must be rendered in order for your package to clear customs.

For more information regarding your country's custom policies, please contact your local customs office.

If your international order has not been received within 31 business days, please consult your local customs office and contact us.
RETURNS, EXCHANGES & REPAIRS
Lifetime Warranty & Repairs 
Our products are heirloom quality and intended to be passed on through generations.
All items are guaranteed for life if damage occurs through the fault of our craftsmanship when used under normal conditions and for the purpose intended. We will cover all shipping costs, just send it to us for a free repair (or replacement).
This lifetime warranty covers faults in materials and workmanship and doesn't apply if damage is caused by unreasonable use or neglect or normal wear and tear.
If your product is faulty, or we sent you the wrong order by mistake, contact us within 90 days of delivery to get a replacement.
If you changed your mind or it wasn't what you were expecting, we'll be happy to exchange or refund your purchase if you send it back to us.
Returning Items for Exchange or Store Credit:
Send your items back to us within 90 days of delivery for store credit or exchange.

You will be responsible for return shipping. You can use any carrier you wish, please provide us with tracking details.

We will process your exchange or store credit within 5 business days of receiving your return.
Returning Items for Refund:
Send your items back to us within 30 days of delivery for a refund.

You will be responsible for return shipping. You can use any carrier you wish, please provide us with tracking details.

We will process your refund within 5 business days of receiving your return.
Additional Information
We cannot accept returns or exchanges for:
Custom products or engraved products.

If you permanently altered something we made.

Final sale items.

Items discounted at 50% or higher.

Items purchased through a 3rd party such as Massdrop, Amazon, or commercial retail outlets. We will still honor all warranty issues.
Customers outside USA or Canada:
International customers (outside of the USA or Canada) that initiate returns or exchanges are responsible for all shipping costs.
Returning Items to Popov Leather:
Until Popov Leather receives the returned order, you are responsible for any loss. It is very important that any returned items are in the best (i.e. original) condition possible. Please retain original packaging and labels.
Returns will be processed within 5 business days of receiving the items at our warehouse. If you return an item not accompanied by the required paperwork there may be a delay in processing your order and in refunding your money.
If a return is made to us by either the customer refusing delivery or the courier being unsuccessful in delivering the package (wrong address), then the default return method will be store credit. Standard shipping will be deducted from that store credit.
Store Credit or Exchange:
Products purchased with store credit or gift card card will receive a return in the form of a store credit.
If an exchange or store credit is requested 2 or more times, shipping fees will be deducted from the store credit amount.
All refunds are processed back to the original method of payment. If your card has expired or been canceled then the return will be issued as a store-credit.
Only one return transaction per order will be accepted. Therefore, it is best to carefully examine ALL items received to ensure satisfaction before making a return of a portion of your order.
If a return is made due to the Popov Leather being at fault, then we will arrange the shipping for you through the courier of our choice. We will not reimburse your return freight costs should you decide to ship it back on your own expense; no exceptions will be allowed.
For all warranty issues, our first step will always be to repair the item. If the item is not repairable, we will replace the item. If the leather color or item style originally ordered is unavailable, we will work with the customer to find a suitable replacement.
initiate a return or Exchange
All our goods are designed, manufactured, and shipped from our workshop in beautiful British Columbia, Canada. We are based out of Nelson, located in the valley of the Selkirk Mountains. Everything you see here is made by us.
We are all local artisans that love what we do. We believe in firmly routing ourselves within our community to ensure the highest standards of quality.
Want to meet the team and find out more about Popov Leather? Click here and read the story of Popov Leather.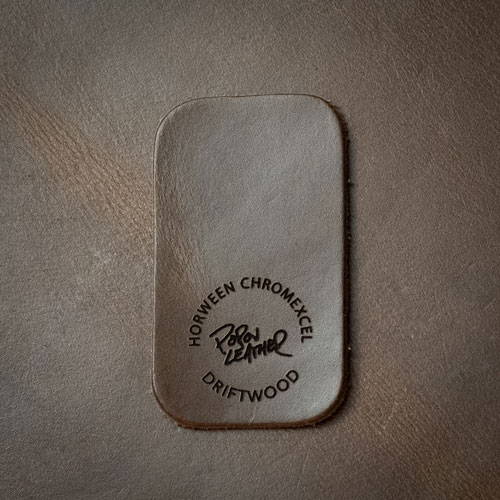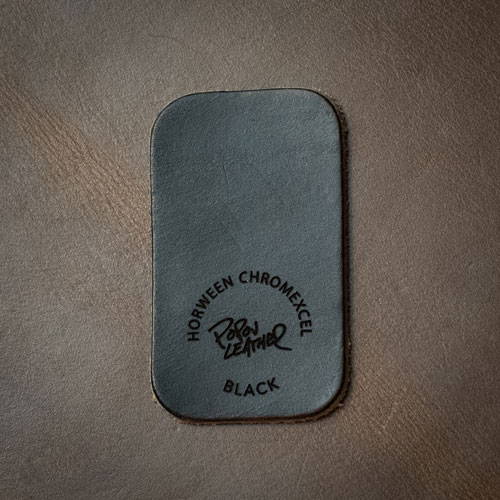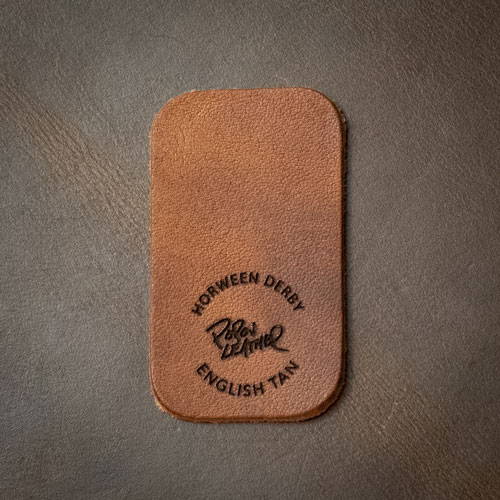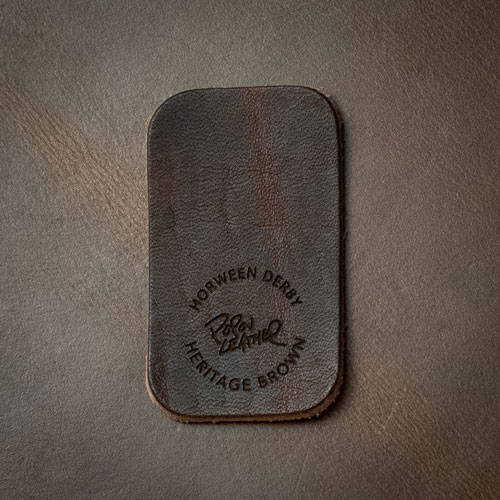 We can laser-engrave initials, names, and dates. Celebrate a special occasion or give a gift that is truly unique. Our engraving is permanent and will never fade. Your choice of printing will be crisp and easy to read.
Features:
You can add a name, date, or initials (limit 10 characters).

We use Times Roman 26pt font. Each letter is about 2-4mm wide x 4-5mm tall.

All punctuation, numbers, characters, symbols available.

All engraving will be on the front bottom-right corner of all our products.

We cannot engrave images unless you qualify as a wholesale or corporate order (see below).
You can request your engraving directly on the product page.
Restrictions:
Engraving may be declined if it contains any of the following:
Profanity

Inappropriate slang

Insulting or discriminatory content

Content construed to incite violence

Material that Popov Leather refuses to place on product

Content that violates another party's trademark or intellectual property rights.

Popov Leather reserves the right to cancel any submitted engravings.
All Monogram purchases are final sale.
Can you engrave a picture or logo?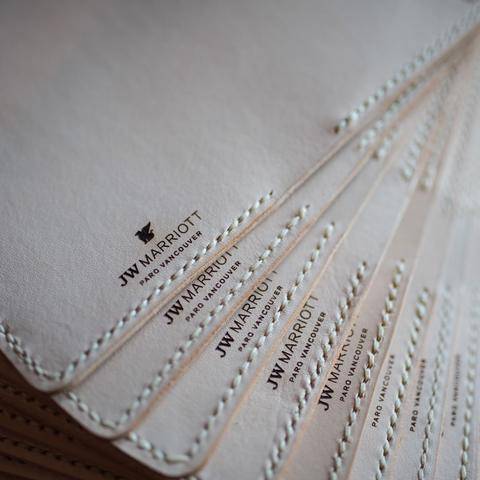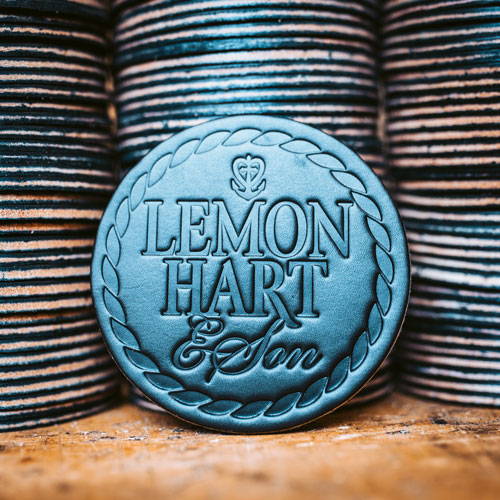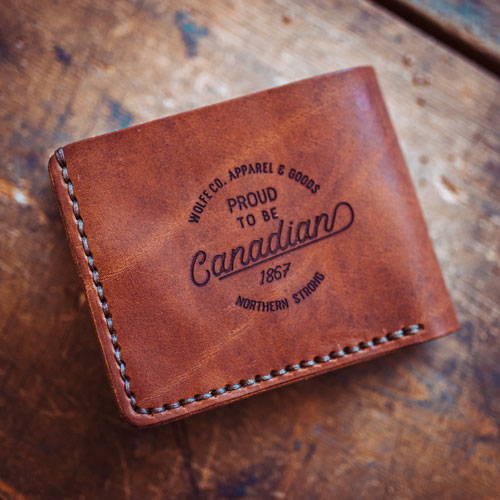 For wholesale accounts and corporate gifting we are happy to offer logo engraving and more complex designs. We can only offer this to customers who purchase in larger volume as this is a time-consuming process for us.
Not a wholesale customer? Apply to become one here.
We have worked with small boutique stores, restaurants and beyond. Typically our clients will take advantage of having a custom logo made for corporate gifts or charity events.

About our wholesale and corporate engraving:
We charge an extra fee based on how complex the project is and if you need help with editing your image/design.

Minimum order quantity is 10 same products with the same engraving design.

We will not etch licensed images or logos unless you are the copyright holder or represent the business with direct authority to use licensed images and logos.

Images must be provided to us in PNG, PDF, PSD, SVG or AI format. Ideally image is vector-based; it must be black and white (not grayscale or color)
At this time we are only offering personalization (initials, names, dates) on our products. We are not accepting commissions for new designs.
We encourage you to submit your ideas for a new product here. If we choose your suggestion you will get a gift card and the final prototype.
We do not make RFID blocking wallets, but we do offer a RFID blocking card that fits inside all our products. Meet the Wallet Gauntlet.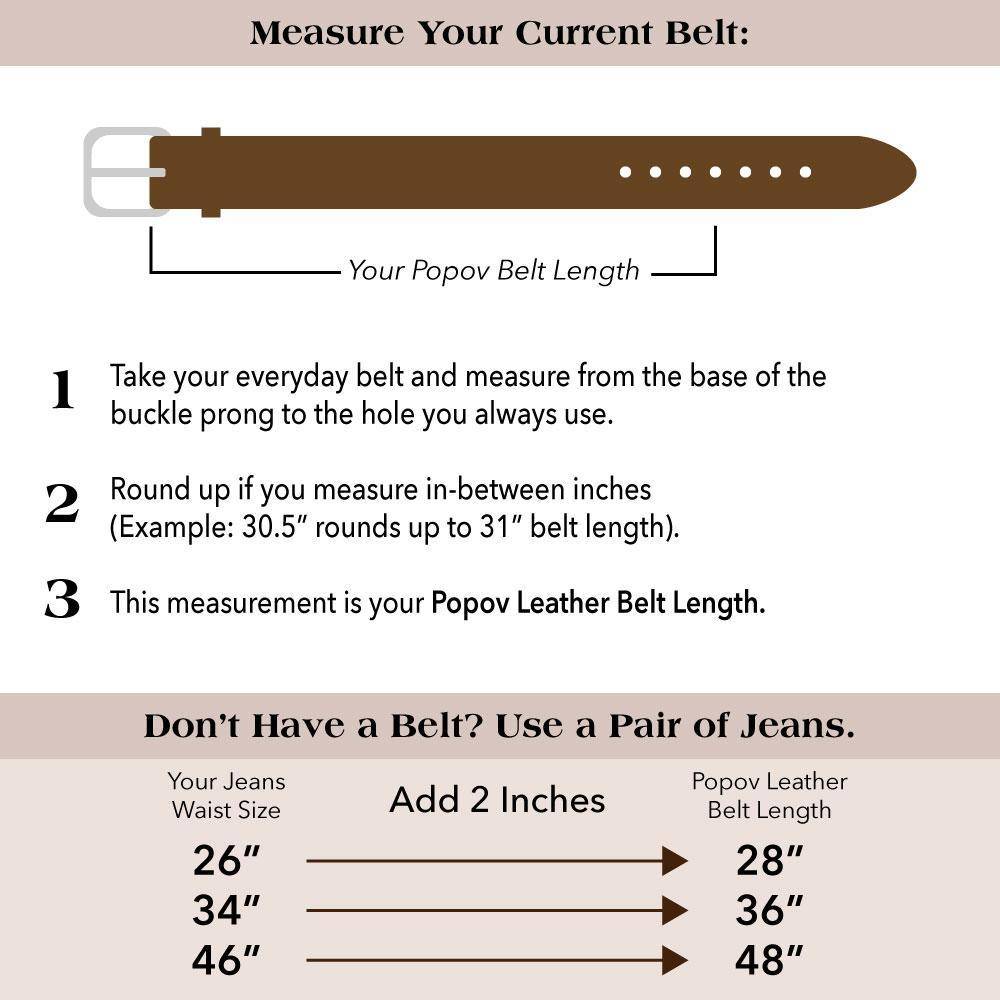 Natural Markings on Leather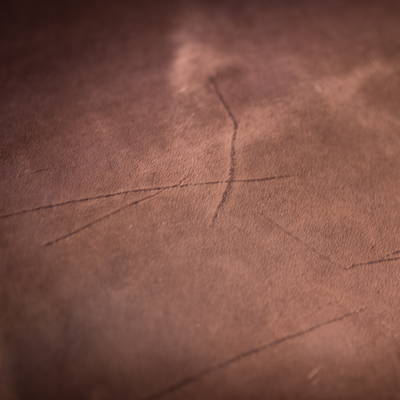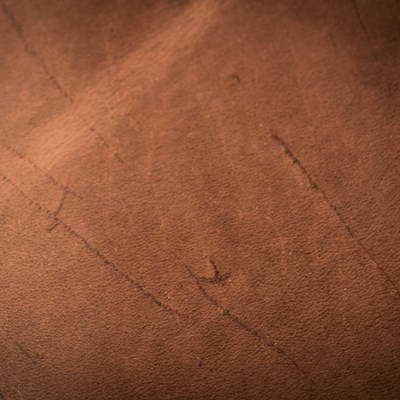 We use full grain leather which is leather with the complete grain intact. The surface hasn't been altered except (in almost all cases) the hair has been removed.
This leather can include natural markings such as scarring, blemishes, insect bites, branding and stretch marks. But these markings are considered the signature of fine leather goods.
A common misconception is that these types of markings are "defects." Instead, think of these as proof of natural origin. These markings incorporate the life of the animal. The absence of natural markings often means that the leather is of lesser quality.
We do not consider natural markings a defect and embrace the unique nature of every animal hide we work with. There is a good chance your Popov Leather product will have some form of natural marking on it.
Read this article about the various grades of leather and why full grain is the best.
Our Horween leathers do not require initial treatment. However, we do recommend applying saddle soap if you plan on exposing our goods to the elements (ie. you like to hike with our book covers).
All our leathers should be conditioned every 6-12 months with saddle soap.
Please be aware that every roll of leather absorbs dyes differently and colouring may appear slightly different than shown in our pictures. Every monitor or phone screen is calibrated differently, exact color cannot be guaranteed. Our products are shown through images and descriptions as accurately as possible.
Finally, this is a handmade piece; expect minor imperfections - this is what makes your product so special.
PayPal Payments in Canada
Due to the way PayPal and our ecommerce platform integrate, we are only able to accept PayPal payments in US dollars. If you wish to pay in Canadian dollars, credit card is the only way possible at this time.
Don't want to pay it all at once? Choose Klarna at checkout to pay in interest-free installments. Read more here.
Zip/Postal Code doesn't match AT CHECKOUT
For all credit card orders, we use an Address Verification System (AVS). AVS compares the numeric part of the customer's billing address and zip code or postal code to the information on file with the credit card issuer.
This can be related to a number of issues including:
Using the wrong billing information at checkout.
Your bank flagging your payment as a precautionary measure.
If you are seeing this happen, please contact your credit card issuer to resolve this. We are unable to accept payment unless AVS approves your payment.
DID WE ANSWER YOUR QUESTION?
Monday - Friday 9am to 5pm PST
Closed on all national holidays