How to Fit a Leather Apple Watch Band
Posted at 8:25 AM • October 14 2021 • Ryan Popoff
---
The straps make the watch. As great as the Apple Smart Watch is, without the right bands it won't be of much benefit to you.
If the leather straps are too loose or too tight, you can't fully optimize all personal features of the watch.
You need straps that are snug, comfortable, and breathable like the leather straps crafted by Popov Leather.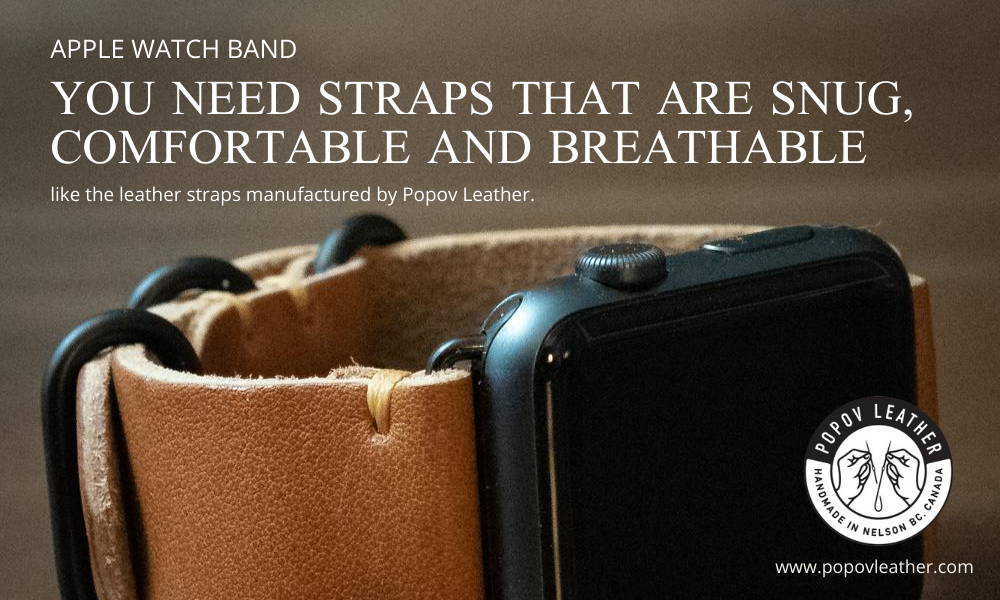 That's why today we'll educate you on how to perfectly fit a leather Apple watchband.
But first, are you using the correct leather Apple watch strap?
Using the Appropriate Leather Strap for Your Apple Watch

Apple watches have a specific design. Popov Leather adheres to these specifications so that the strap can fit perfectly. That way, the watches' main functions like wrist detection features, compass, can work properly.
You need to make sure that the leather band matches your Apple Watch case using the guide below.
Apple Watch Band Specifications
Apple Watch Series11

Apple Watch 1st generation

Apple Watch Series 1, 2 and 3

Apple Watch Series 4, 5 and 6

Apple Watch SE

Apple Watch 1st generation

Apple Watch Series 1, 2 and 3

Apple Watch Series 4, 5 and 6

Apple Watch SE
All our straps match the apple specifications for each series.
A properly installed watch band should stay put until you're ready to remove it. So let's dive into the simple steps on how to fit a leather Apple watch band.
Steps to Fit a Leather Apple Band Watch
First, you need to measure the circumference of your hand so that you can get the correct watch band size.
Use a string, tape, or anything that can wrap around your wrists then place it against a ruler.
Note: After getting the measurements, round up the figure by above half a centimeter. For instance, if your hand measures 15.5 cm, round the figure to 15.75 cm.
On average, men's wrists are between 15 to 19 cm while women's wrists are smaller, measuring 14 to 18 cm.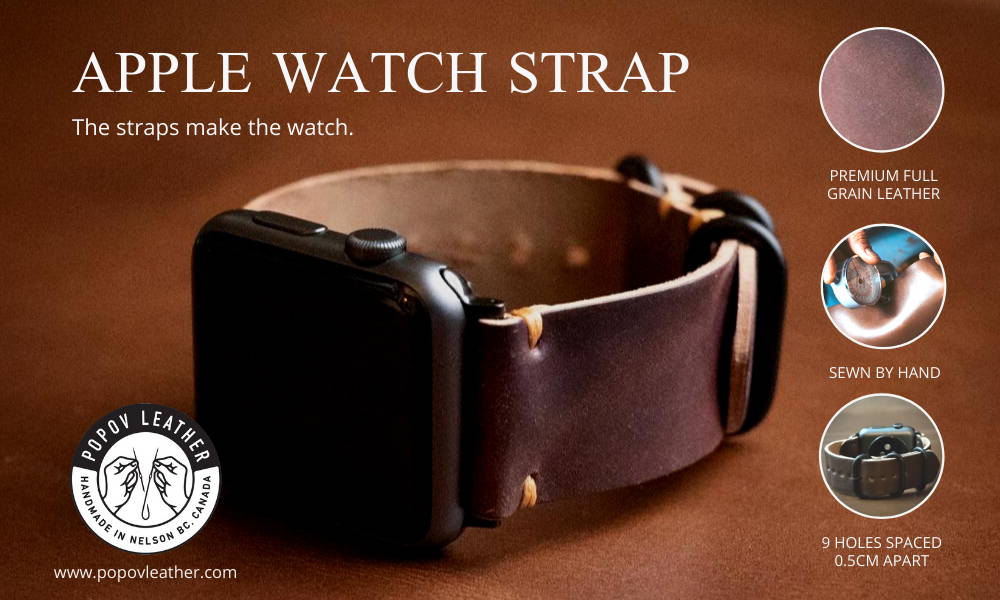 Using the measurements from step 1, it's time to shop for a leather watchband.
Popov Leather makes shopping for your watchband easy. That's because their straps match the Apple watch models 1, 2, 3, 4, 5, and 6. The watchbands range from 6" to 8.5" making them suitable for most arm circumferences.
Note: The average human wrist is about 7.6" in males and 6.8" inches in females. This means whether your arms are bigger or smaller than average, you'll get a watchband that fits.
This is one of my favorite watch bands. The leather and craftsmanship is great quality. It looks and feels great.

Brad, ★★★★★ Verified Reviewer
In addition, the bands are available in different colors to suit your taste. You can select from a range of four amazing colors in Popov Leather's range.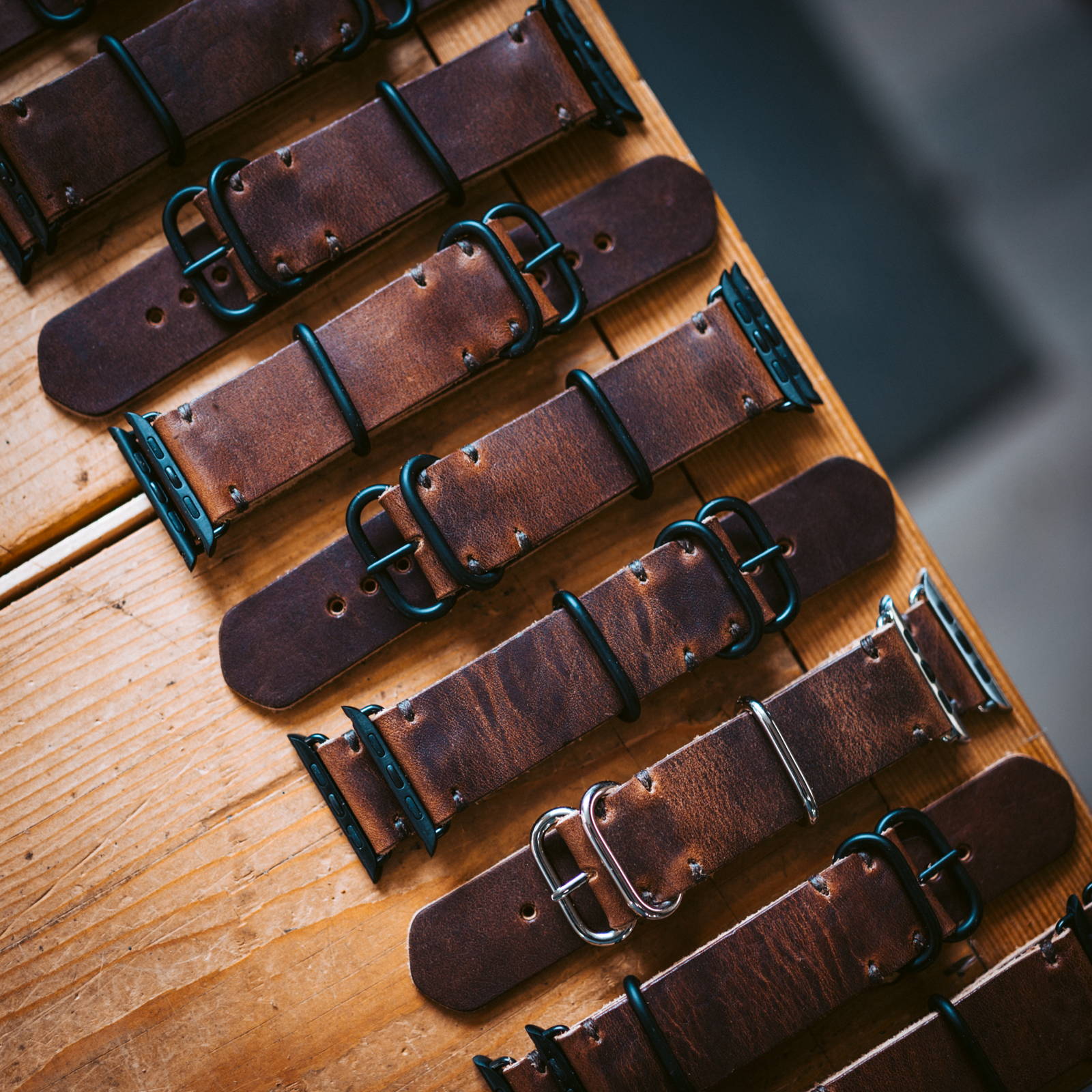 Install the Leather Watch Band into Your Apple Watch
Popov Leather sends you two-grain leather Apple Watch bands that are 125mm and 80mm long. The longer strap has 9 holes that are 0.5cm apart. The width is precisely measured to fit the corresponding Apple Watch.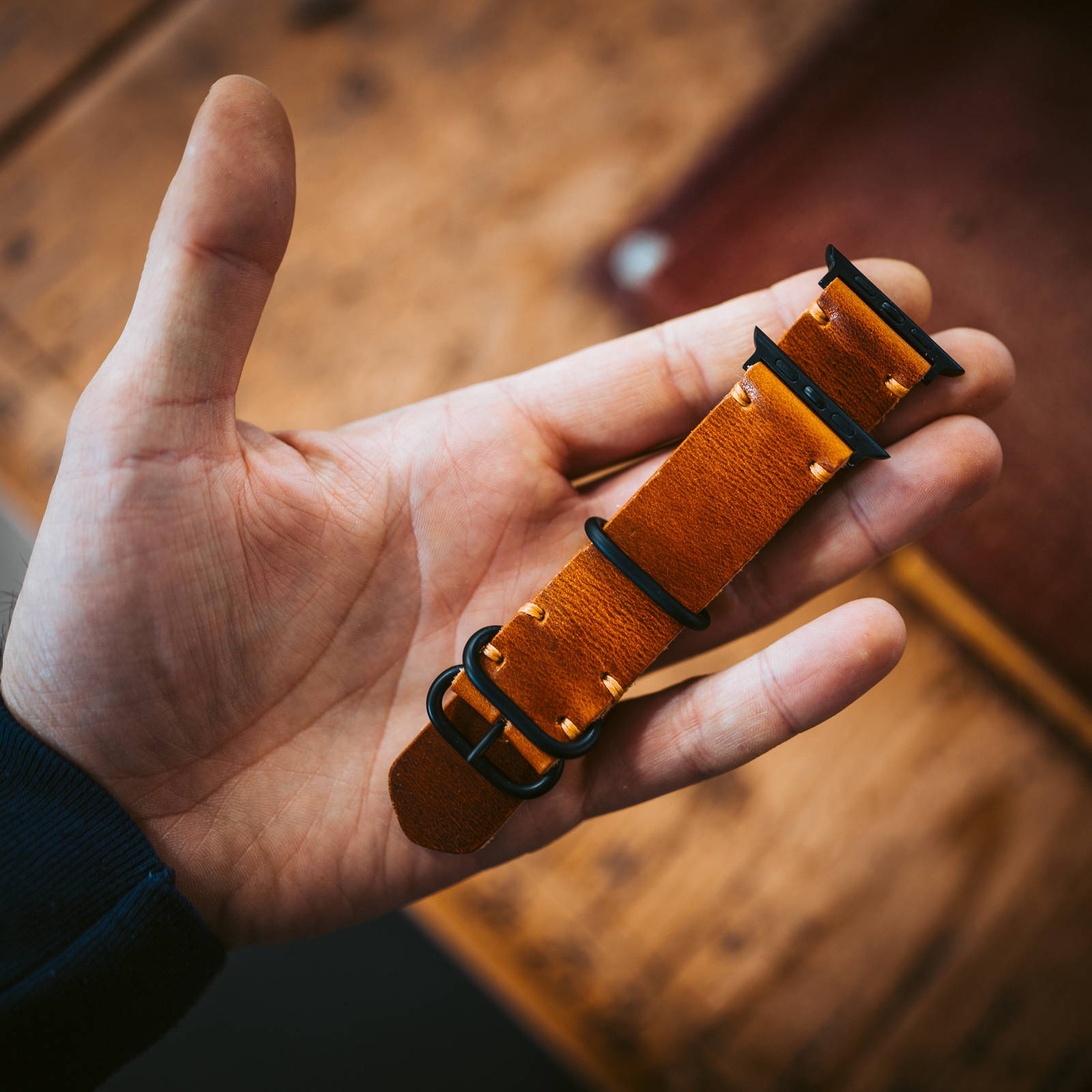 To install the watch bands onto your Apple Watch:
Place the watch upside down on a microfiber cloth so that the release button is facing you

Press the button and hold the release button

Slide the watch bands across the lugs until they reach the end
Note: If you insert the watch band when it's facing the wrong way, it'll slide out on the other side. To make sure you got it right, the band should stop and clip in place once it reaches the other end.
Once you feel the watch band clipping in place, release the button

Gently pull it up and down to make sure it's secure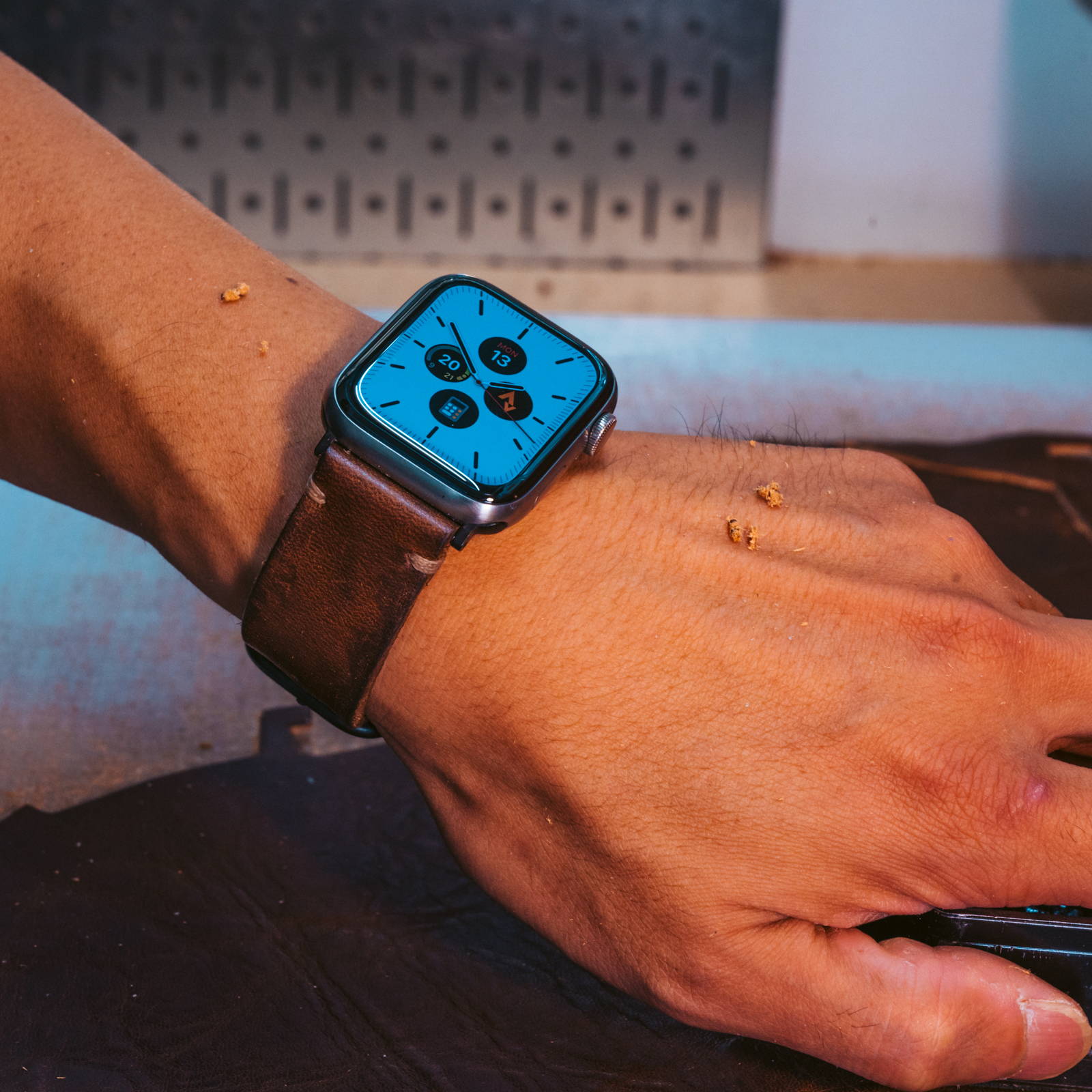 In case the band doesn't lock in place, re-center it and gently push it inwards. Then carefully wiggle the band up and down.
Watch this video for a step-by-step guide.
Test the Leather Apple Watch Band on Your Hand
Wrap it around your hand and insert the stopper in the hole that feels comfortable for you.
Always, wear the Apple watch on the top of your wrist so that all the sensors can work.
The watch operates best when it's in direct contact with your skin so wiggle your hand around a bit to see if it slides out of position.
If it fits perfectly:
Features such as Wrist Detect, the Taptic Engine, and the electrical and optical heart sensors will work properly

The Apple Watch won't feel too tight or too loose

The watchband leaves enough room for your skin to breathe

It won't move out of position when you move your hand
Note: You should tighten your leather Apple Watch strap when you work out, then loosen it once you're done. Tightening the bands helps to prevent skin irritation during the workout, plus the sensors will work better.
If your watch feels comfortable, you're all set.
You are welcome to exchange your watchband for a different size if it doesn't feel just right.
We also have a 90-day refund policy and a lifetime warranty to prove our commitment to quality.
Our heirloom-quality leather Apple watch straps are designed not to unravel because we hand-sew the straps with thick tiger thread.
Additionally, the removable sliding keeper on each edge keeps the straps sturdy.
We use soft, full-grain leather that's breathable and more comfortable on your skin. Additionally, the leather is long-lasting and it continues to develop character and patina over time.
I own several watch bands and this is by far my favorite and best one. Great craftsmanship! Genuine leather that is soft, beautiful gets better looking day by day.

Javier, ★★★★★ Verified Reviewer
Frequently Asked Questions
Does the Leather Apple Watch Band Stretch?
Apple leather bands don't have a significant stretch. Popov Leather makes sleek and sturdy grain long-lasting leather bands.
How Do I Clean My Leather Apple Watch Band?

When your leather band gets dirty or sweaty, all you need to do is wipe it clean.
Dampen a clean non-abrasive, lint-free cloth with water and lightly wipe the band — preferably in circular motions.
After cleaning the leather band, let it air dry completely before reattaching to your Apple Watch.
However, DON'T:
Keep your Apple watch

leather strap in direct sunlight

Store the watch band at high temperatures or high humidity

Soak leather bands in water because they aren't water-resistant
You can use the Popov leather balm to restore and protect your watch band from the elements.
How Do I Remove My Apple Watch Band?
Gently press the band release button on your Apple Watch. Then slide the band across until it comes off.
Caution: Never insert or remove the watchband forcefully into or out of the slot. Always press and hold the band release button multiple times and slide the leather band if you experience any difficulties.
---
---