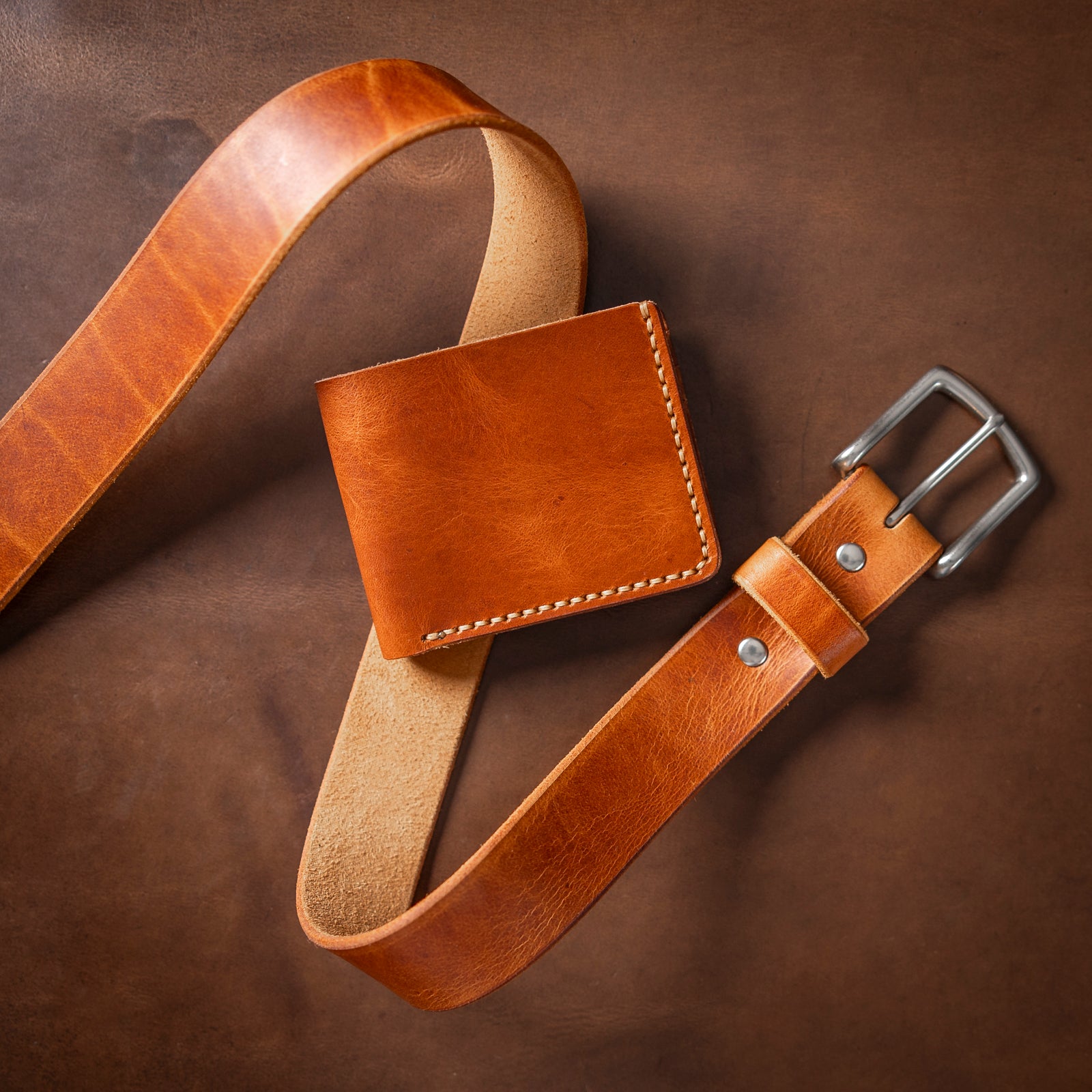 A Great Gift Idea
Instant Gift Cards
Can't decide on the perfect leather gift? Instant Gift Card to the rescue!
Last Minute Gifting
Comfort is one of the top reasons to choose a handcrafted leather belt over stiff, synthetic alternative materials. Leather is a material that is durable, but also bends easily. This allows it to adjust to your movement, which keeps you from feeling like it's digging into you throughout the course of the day. 
"I think an underrated feature of Popov's leather is how incredibly supple it is. I've worn a few leather belts in my time, and the higher quality ones you really get this feeling that there's not only sturdy craftsmanship, but its so supple and soft that it doesn't feel like a vise around your midsection. It's really good, and I don't normally pay this much for belts, but it's definitely worth the price for how good a product you're getting." ~ Liam
The wrong belt is one you're desperate to take off. After all, the best-looking belt in the world is worthless if you refuse to wear it. The right belt, on the other hand, is so buttery-smooth that your forget that it's there. 
When it comes to comfort, our handcrafted leather belts are the real deal. Our choice to use full-grain leather is as much due to the supple feel as it is due to its quality. 
Not only will your belt feel good on the day it arrives at your door, but as you wear it, it will become more and more accustomed to your body. This means that the comfort of this belt will only improve with age.
We offer a sizing chart and video guide to help you pick the right size belt for your body. As a general rule, we suggest you purchase a belt that is your pants waist size plus two inches. This gives you enough room that your belt will go through the third or fourth hole, giving you enough room to play in either direction. 
"I can honestly say that I didn't even know that belts could be this nice. Exceptionally well made. Tip: The sizing chart is right. Two inches plus your pants waist size is perfect." ~ Greg K.
Keep in mind that if you're in the process of losing weight, you may want to order a size down, especially as leather has been known to stretch. Once you've found the right size belt for your body, you can feel confident in ordering the same size again and again, knowing that our sizing is quality controlled. 
"Great belt. I have it in Black as well Heritage Brown. Both fit exactly the same, which speaks to the QC at Popov." ~ Jim B.
Leather is extremely supple. That comfort comes, in part, from the flexibility of the material. This does mean that leather belts, like all leather products, have the tendency to stretch a little bit over time. 
We account for the stretching of your leather belt by offering additional belt loop holes so that you can tighten it as needed. 
"Super comfy belt. Very well-made and I love the fact that the edges are a light brown, rather than having the whole belt be completely black. Definitely does stretch a bit in the first few wears, so be prepared for that. A lot of holes so that the size is very adjustable. I'm a 36 pant, ordered a 38 belt, and I'm on the middle hole after 6ish wears and a bit of stretching." ~ Trevor D.
There is a limit to the amount that your leather belt will stretch. With a lifetime of use, you can anticipate your belt stretching 1-3 inches in total. This means that, while the belt will stretch, it shouldn't stretch so much that it becomes unwearable.
If your belt has stretched, or you wind up losing weight, there may come a time when you want to shorten your leather belt. Luckily, this is not only possible to do, but relatively easy with the right tools. 
Using a leather hole punch, you can cut a new hole for the leather prong to go through. 
Although it's possible to wash leather belts, what you don't want to do is throw them in the washing machine. If your leather belt inadvertently goes through the washing machine, you'll want to take special care to ensure it dries well and is re-oiled. 
However, if you notice that your leather belt has some dirt built up on it, you can take intentional steps to wash it. 
Start by wiping the belt down with a damp cloth. This will remove dust and grime. If you have more hard-wearing stains, you may need to scrub at the belt using some saddle soap that is specially designed to be used on leather. Always use the right chemicals, as harsher cleaning chemicals can strip the leather and ruin the look of your belt. 
When you're done cleaning your belt, you'll need to replenish the natural oils. You can do this either by massaging a specially-designed leather conditioner into the material, or, if you don't have that on hand, by massaging a little bit of vegetable oil into the surface of your belt. 
Either way, you'll want to leave your leather belt to air dry. Never apply heat to dry leather, as doing so can lead to the material shrinking and cracking.
Handcrafted leather belts made with full-grain leather lasts a lot longer than cheaply-made synthetic belts or belts made from "genuine" bonded leather. In fact, the belts from Popov Leather are heritage quality and guaranteed for life. 
"I've owned a lot of belts over the years (decades!). I've never had one last more than a year or two before they'd split, separate, and lose their shape. I now own 4 Popov belts that I rotate using and each of them gets better - not worse - with age!" ~ Paul N.
The popular adage "you get what you pay for" is appropriate when it comes to your belts. While you can find cheap belts in local stores, those belts will not stand up to the test of time. Purchase a belt from Popov Leather, on the other hand, and you will never need to purchase a replacement.
HANDCRAFTED LEATHER BELTS
The moment your fingers brush against this supple, yet durable, leather, you'll understand the meaning of "quality." 
Our handcrafted leather belts are made with full-grain USA leather and sturdy tiger thread. The result is a hearty belt that will stand up to decades of use. 
The more you wear your Popov Leather belts, the more they will soften to the touch and develop a rich patina. This means that, unlike belts that split and fray after a few uses, your Popov Leather belt will only get better with time. 
Each belt is hand-burnished along the edges to refine the style and ensure the belt passes smoothly through your belt loops. We finish each belt with a sturdy brass buckle, adding a comforting weight to your belt while ensuring your pants stay firmly in place. 
Choose from a wide range of sizes to fit every body type. Follow our quick video guide to find the right size for you.