How to Choose the Best Wallet for Your Everyday Use
Posted at 5:15 PM • October 9 2021 • Ryan Popoff
---
A wallet is an everyday item. It goes with you everywhere, holding your hard-earned cash and your precious plastic.
If you've got a good one, then your wallet will last many, many years. So, when you're replacing a lost or out-of-favor wallet, it's worth taking the time to find the perfect match.
I had been wanting a genuine leather, good quality wallet for a while and finally pulled the trigger on this wallet from Popov. Absolutely thrilled with it. Not too big but fits all of my basic day-to-day cards and cash (got rid of some extra cards that were useless). It feels great and after a couple months it's starting to look even better. Excited to have this wallet for a long, long time.
Riley C., ★★★★★ Verified Reviewer
In this guide, we'll review the basics of leather wallet shopping. Let's explore your options and discuss what attributes define the wallet that you'll never want to replace.
Choose a Wallet That Has Just Enough Storage Space

Your wallet or money clip should contain enough storage space for whatever cards, cash, ID, and coins you want to carry around—with minimal wasted space or extra bulk.
I was extremely pleased with the product! I bought this wallet for my fiancé and he absolutely loves it! He especially loves the chain that attaches to the wallet. We have searched numerous stores and could not find what he wanted, then we came across this website and found out answer!
Deniece C., ★★★★★ Verified Reviewer
Are you trying to keep your pockets light? Or do you prefer your wallet to function as a little leather filing cabinet full of nooks and crannies?
Different wallet designs allow for varying amounts of cargo. Let's review your options.
| | |
| --- | --- |
| Wallet Style | Storage Features |
| | Wide middle picket with a card slot on each side |
| | Middle pocket for folded cash, two card slots, and one ID slot |
| | One card slot and one snap-shut coin pouch |
| | Billfold pocket, four card slots, and one snap-shut coin pouch |
| | Five-card slots (four internal and one external) |
| | Billfold cash pocket and six card slots |
| | Wide middle pocket for up to 20 paper cash notes, four card slots, and one ID slot |
| | Two cash pockets and eight card slots |
| | Checkbook slot, two cash pockets, four card slots |
Note that most card slots can easily hold two cards. So, the long wallet, for example, holds up to 16 cards in its eight slots.
The best way to figure out how much storage space you need is to look at your current wallet. How much space does it provide—is it bursting at the seams because it's too small, or is there extra wiggle room left over?
More often than not, we end up carrying around more than we need. If your wallet is tight because it's full of old business cards and gum wrappers, downsizing might be a good idea. Clear out the contents, slim down the load, and move into a more streamlined design.
Choose a Wallet That Isn't Bulky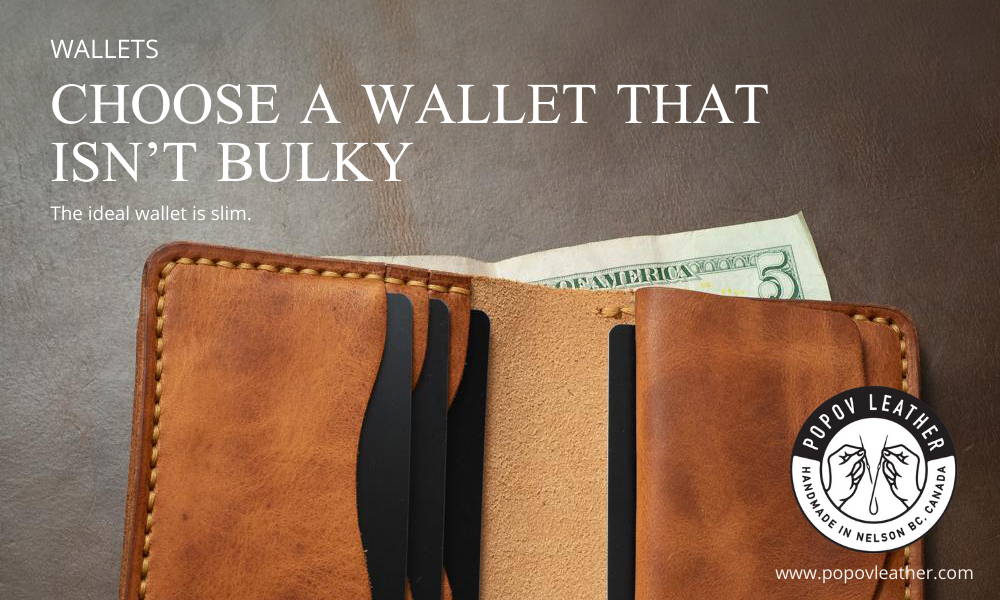 Just as important as having enough storage is not having too much bulk. After all, this thing does need to fit in your pocket.
I bought this wallet for my husband's birthday and he loved it! He liked the heavy feel of the leather, the quality of which it was put together, and the simple and timeless design.

Katie W., ★★★★★ Verified Reviewer
The ideal wallet is slim. Even if it's a design with a full set of compartments, like a trifold, the goal is to achieve minimalism within the established parameters.
Perfectly planned dimensions and the highest-quality materials: that's how you get a highly functional wallet that's perfectly slender.
The pockets and slots should be just large enough to hold their cards and cash, and no space should be wasted. Every fold and every surface, front, and back, should be utilized optimally.
As for materials—well, obviously, around here, it's all about the leather. In addition to its aesthetic properties, full-grain leather is durable without being too heavy. And then there's our finishing touch: hand-sewn Tiger Thread that will never come apart or unravel.
---
Tiger Thread is a polyester thread that's braided, flattened, and waxed, making it super strong and ideal for hand-sewing. Many leather workers consider Tiger Thread to be the best thread in the world.
When you combine all these elements, you've got a streamlined wallet that gets the job done in style.
Choose a Wallet That Was Handmade Just for You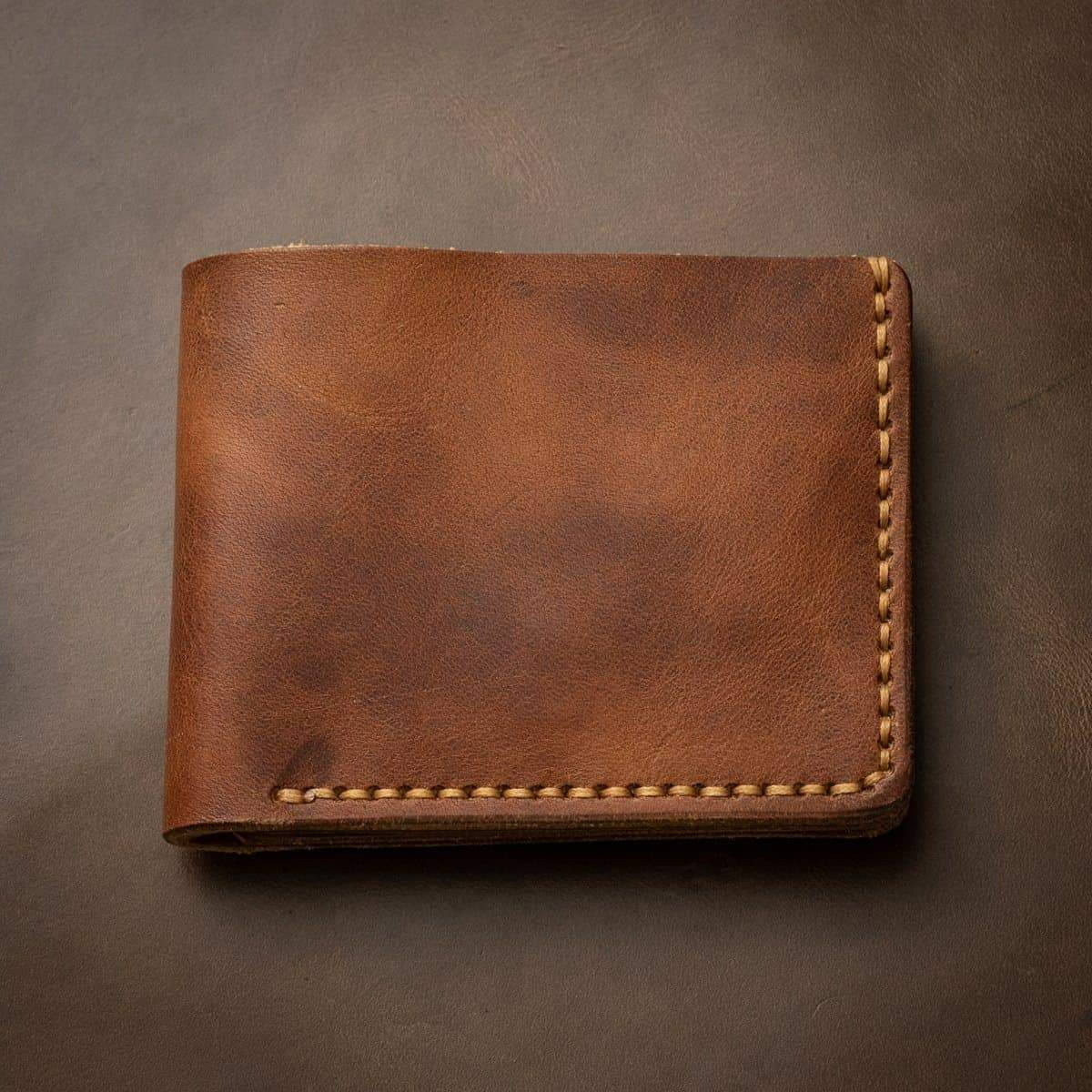 A wallet is personal. It's private, intimate. It lives in your pocket, attached to your body, and tucked inside are some sensitive items… cash, credit cards, and your driver's license with the bad hair day photo.
The wallet I purchased is beautiful. I will definitely be buying from Popov again.

Patrick B., ★★★★★ Verified Reviewer
At Popov Leather, we don't believe in branding—quality is our brand. If we slap a logo or company name on our products, then we make it all about us. And really, it's all about you, your preferences, and your carefully selected handmade leather goods.
If any text is going to appear on your wallet, you're the one that should pick it out. To that end, we offer custom engraving.
We'll laser-engrave initials, names, or dates on your wallet. Our engraving shows up clear and legible, and it will never fade away.
Of course, engraving is just a finishing touch, a stylistic flair. Whether or not you slap your name on your wallet, it was still made just for you—every item we sell is handmade and one-of-a-kind.
Built-to-Last Handmade Leather Goods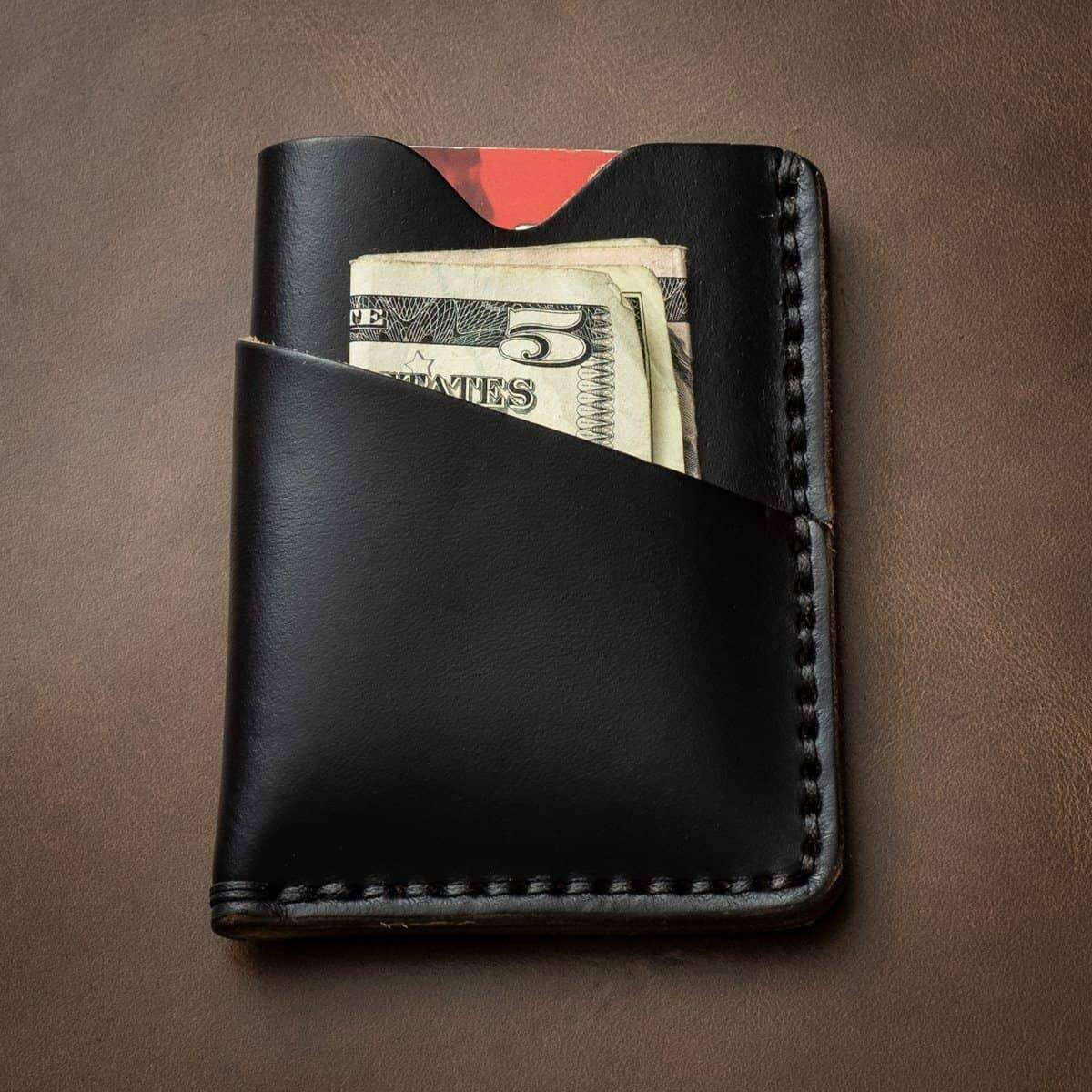 A well-made leather wallet is a long-term purchase. It might even last a lifetime if you manage not to lose it.
You'll know your wallet well. Its feel, its smell, and its patina.
Great card holder! been using it everyday! dont be fooled by its small appearance because it can carry a heck of capacity <3"

David S., ★★★★★ Verified Reviewer
---
---