The 4 Best Wallets for Minimalists
Posted at 1:27 PM • September 16 2021 • Ryan Popoff
---
Minimalism is a lifestyle—no fancy bells and whistles, after all, less is more. At Popov Leather, we're on board.
Practicing hand-stitching and using the finest-quality leather allows greater control over our leather goods designs.

You get the best clean and simple wallet styles with no compromise on function.
I was replacing an old front pocket wallet for the 10th time it feels like so I decided to get something more durable and well personal to me. My ID Wallet arrived and right out of the packaging, I could feel it was quality, very very snug with my cards and ID, however, leather is great in the way it stretches. I had this now for a couple weeks and it is perfect. Thanks so much...I dont think this will need replacing for quite some time.
- Vincent G., Verified Buyer
Choosing a Minimalist Wallet Style
If you're looking for a simple functional wallet with clean aesthetics, Popov Leather has the best range to choose from.
We believe wallets should be defined by quality rather than a brand name.
In this guide, we'll review four of our best minimalist models:
Slim Wallet

Card Holder Wallet

ID Wallet

Four-Card Billfold Wallet
But first, let's take a quick look at the dimensions.
Popov Leather Minimalist Wallet: Size Guide
| | |
| --- | --- |
| Wallet | Dimensions |
| | 4" wide x 2.6" tall x 0.25" thick |
| | 2.8" wide x 3.75" tall x 0.28" thick |
| | 4.1" wide x 3.3" tall x 0.3" thick |
| Four-Card Billfold Wallet | 3.5" wide x 4" tall x 0.5" thick |
Each wallet is available in these four earth-toned colors:
English Tan

Heritage Brown

Natural

Black
Now let's take a closer look at our four featured wallet designs.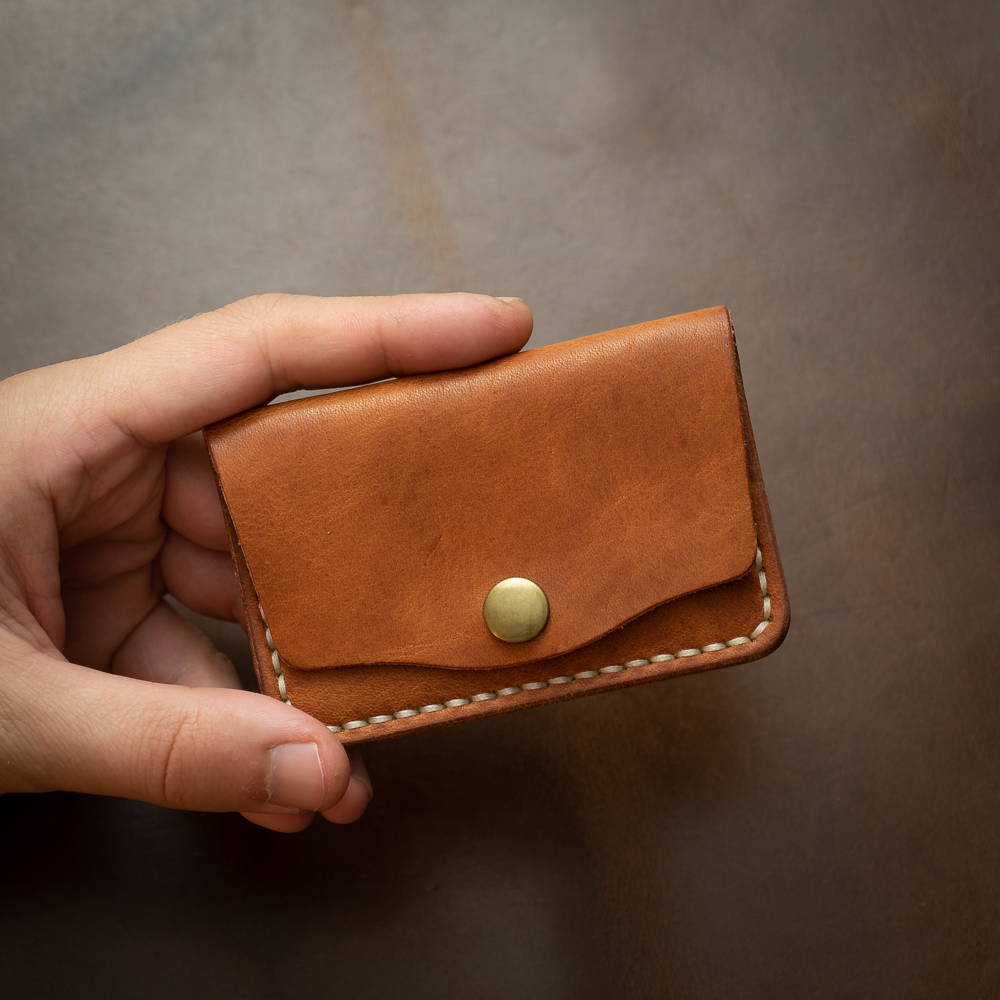 Meet the Slim Wallet, pictured here in English Tan. It boasts a petite and elegant design, with clean elegant stitching.
This wallet features one card slot and a snap-shutting pouch for additional cards or coins. There are no inscriptions or branded images, just a neat and functional wallet.
Leather Card Holder Wallet
The Card Holder wallet, shown above in black, comes with plenty of capacity in a small package.
True to form, the design exudes minimalism. With only one pouch and one pocket edged with an undefined black stitch.
Yet, it does its job perfectly. The central pouch is flexible, opening wide to hold up to six cards. In the outer pocket, you can slide in your folded cash.
Thanks to the utmost efficiency employed in the design, the Card Holder stores everything you need while creating the absolute minimum amount of pocket bulk.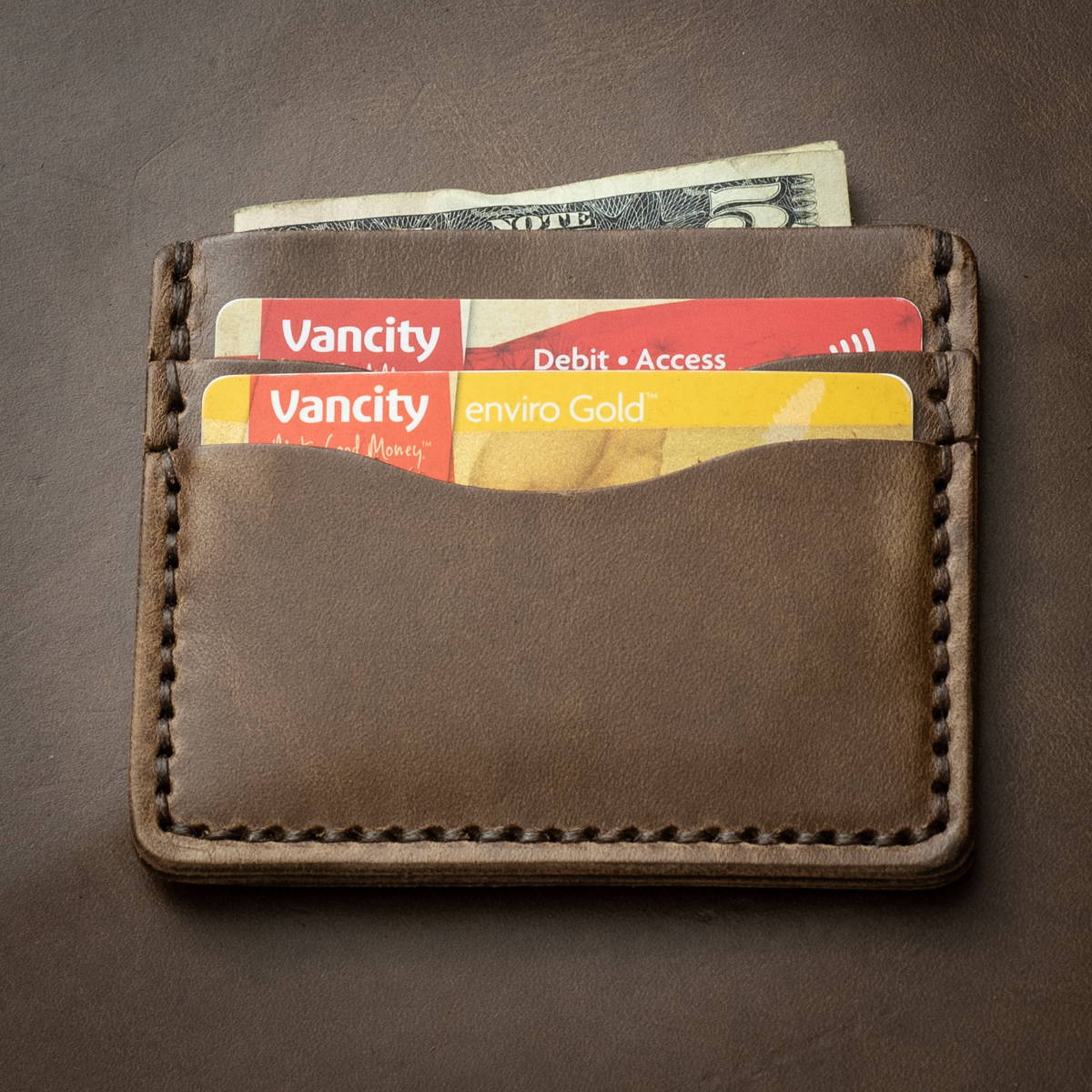 The ID Wallet, pictured here in Natural brown, provides the compartmentalization that some wallet users need. You'll find just enough slots and just enough space while keeping the overall shape sleek and economical.
This design includes two card slots on one side that can hold 1–3 cards per slot. The middle space opens to carry cash or more cards, and the reverse side contains an ID slot.
Get your full array of storage slots, but maintain a slick, minimalist style with no unnecessary add-ons.
The Four-Card Billfold wallet, pictured above in Heritage Brown, is a full-size design with a minimalist style.
After reviewing some feedback on our previous iteration, we've reintroduced this model with a widened billfold pocket. We've also added a coin pouch.
Open up this gorgeous piece of leather craftsmanship to find four card slots. Each one can fit at least two cards. The coin pouch snaps shut to secure its contents—perfect for loose change or keys.
The newly widened billfold can handle plenty of cash. It's sized to fit American, Canadian, or UK currency.
I admit it, I'm a bit of a leather junkie. Whether it's high quality shoes and boots, a really durable belt, or a quality wallet, I can't seem to resist. This is clearly demonstrated by the amount of items I've purchased from Popov this year. This wallet is to die for. The smell is intoxicating and the quality of the material and workmanship is second to none. I almost hope someone steals my wallet so I have an excuse to buy a new one.
- Stephen W., Verified Buyer 
Thanks to a refined design, this wallet does it all. Yet, using minimalist lines and folds, it's simple and clean.
Full-Grain Horween Leather Wallets

Less is more—minimalist wallets are stylish, with no brand names and a simple classy aesthetic appeal.
Maybe you like to have a few slots for your notes and coins or an ID holder. Or perhaps you want a plain and simple cardholder.
Whichever design you choose, when you purchase leather goods from Popov Leather, you can count on a few guarantees:
Full-Grain Horween Leather

Hand-sewing with thick Tiger Thread

Sanded, burnished, and polished edges
The quality of our Full-Grain Horween Leather means that your wallet is sure to develop character and patina: the weathered sheen that develops over time on the surface of your leather.
Thanks to hand-crafting and the gradual onset of patina, every wallet is unique and establishes its one-of-a-kind look and feel.
I've had this wallet for almost 3 years now and it's part of me. I currently store 11 cards in it and can probably fit one more. Might be pushing it though. Love it for its minimalist style and the leather has taken on a nice warm patina. The scratches and scuffing add character as well.
- D.M., Verified Buyer 
While the leather develops its individual lines and shines, the wallet will hold up tremendously for many, many years. The Tiger Thread that we hand-sew each piece with is thick and strong. It never unravels or falls apart.
Because we have the utmost confidence in our craft, we stand behind each wallet, watch strap, belt, and every product we make with a Lifetime Guarantee.
Our products are heirloom quality, made to be passed down from generation to generation. If damage occurs through a fault in craftsmanship, free repair or replacement is in order.
If you're ready for your next wallet—one that will last a lifetime—please visit the Popov Leather wallet collection.
---
---