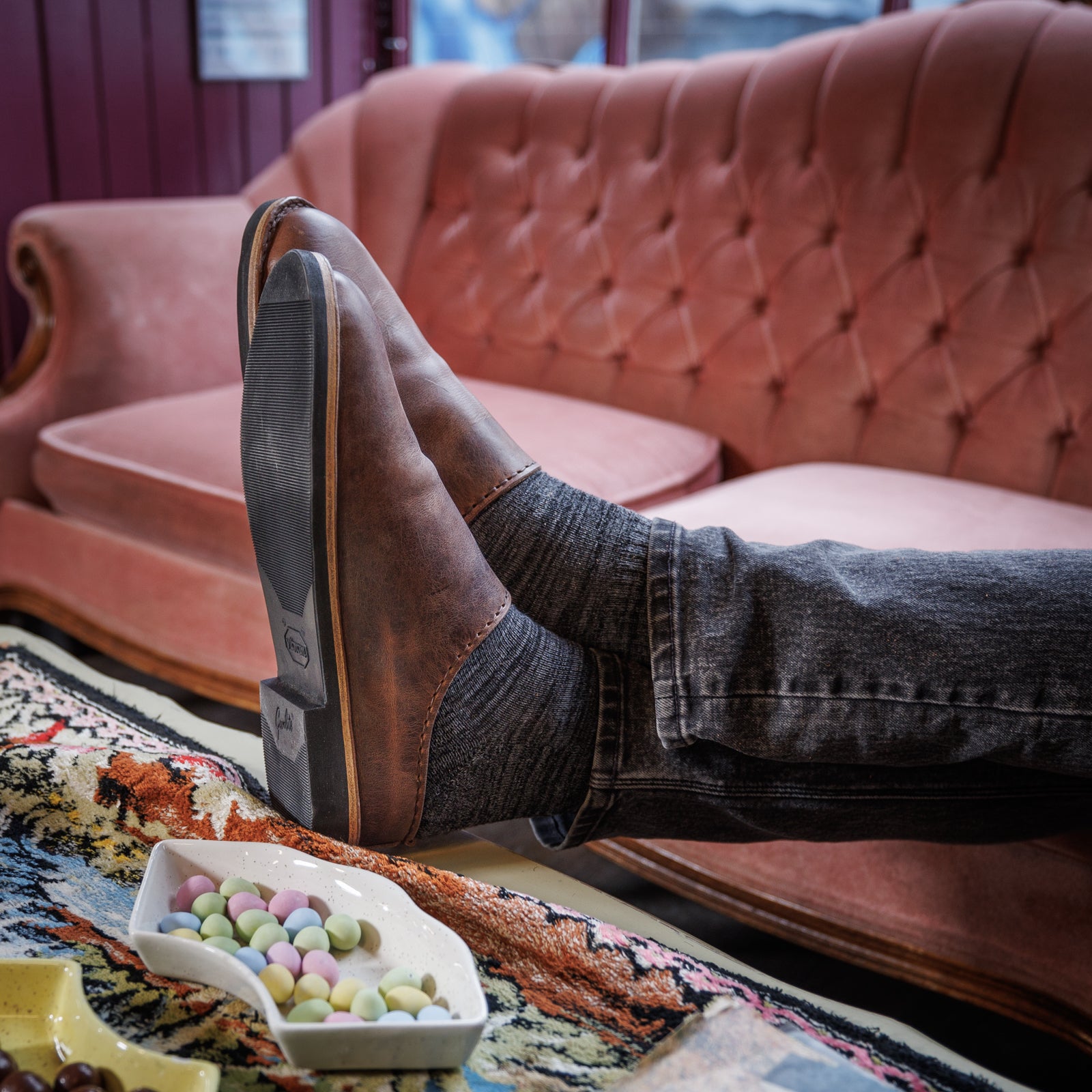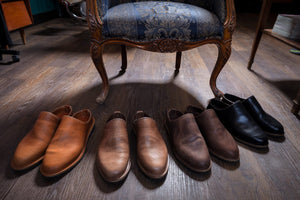 Limited Quantities Available Spring 2024
GET NOTIFIED
Due to the complexity and time required for every pair of shoes, we're only offering our shoes in limited quantities. Our next 50 pair offering will launch spring 2024. Be first in line by registering to be notified, click any of the shoes below and sign up on the product page.
The Classic Slip On
Fully hand-stitched and hand-lasted slip on shoes built on a service boot last. These versatile shoes are perfect for any occasion, from drinks at the pub to a day at the office.
We release our shoes in small batches. Please sign-up to be notified via our product pages and you'll be emailed as soon as the product is available to be ordered. People who sign up this way will be notified first before the general public.
All our shoes are made from full-grain USA leather which we source from Horween Leather Co, Seidel Leather, and Wickett & Craig.
Our Classic Slip On shoes are designed to be worn indoor and outdoors in casual and formal settings. They are designed for comfort as well as durability.
We have a very generous return policy for all our products (which include our shoes) which can be found here.
The Slip-On Shoe features a Vibram rubber outsole. At some point you may need to resole your shoes. We design our product to be easily resoleable by any cobbler who may be local to your area. We do not offer re-soling services.
Our current lead times are available on the product page.
These shoes are crafted from full-grain leather and designed to stand the test of time. They are meant to last a lifetime, unlike most sneakers that often require replacement every couple of years and are made from synthetics, rubber foam and plastic.
Our footbed inserts are shaped to provide a basic level of arch-support, but can easily be replaced with any arch-support insert you already have.
Our footbed inserts are designed to be removable if you choose to use your own footbed or insole products.
All sizing information is available on our product pages. We are working to accommodate most sizes and widths in the future.
Please consult our sizing guide for the most current information for sizing our shoes. In general, if you are a half-size and we don't offer our shoe in a half-size, please size down. For example: a size 10.5 should purchase a size 10 shoe.
We recommend cleaning these shoes regularly with our boot cleaning kit, or any reputable brand of leather cleaner. Follow up this treatment with a leather conditioner to maintain the leather's natural oils and prevent drying or cracking of the surface.
Our leather can be treated with a conditioner or balm to make the shoes water-resistant, but they are not designed to be waterproof. We do not recommend wearing our Slip-Ons in wet conditions.
Let your shoes air-dry gently in a well-ventilated area, once they're dry they will be good to wear. Recondition and clean as necessary.